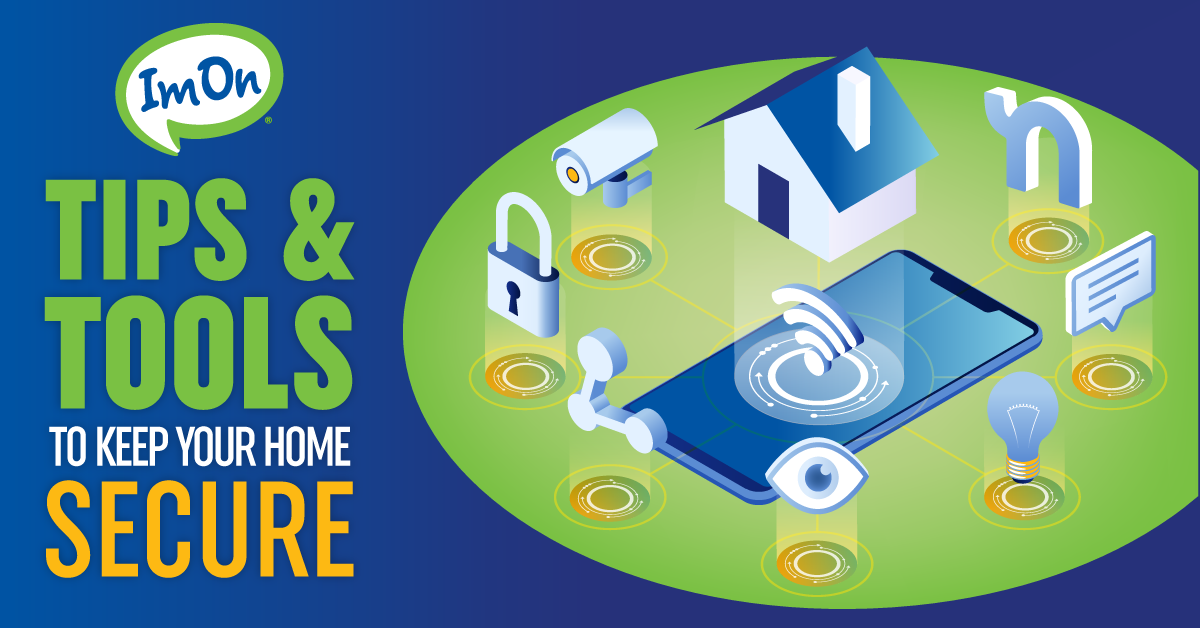 Your home is your family's safe space. Knowing what to look for when it comes to alarms, cameras, and security systems for your home can give you piece of mind and make your family even safer.

Looking for ways to improve your home's security? Let's review some of the choices you have when it comes to affordable and reliable residential Wi-Fi security systems, as well as information on how/where to report any suspicious activity in your neighborhood.

Most Wi-Fi security systems recommend an internet speed of 1-2mbps for each camera unit. By choosing ImOn's high speed Internet for your home you'll be certain to have high quality streaming camera footage and security alerts whether you're at home, work, on the road, or even if you finally decide to take that vacation you've been planning for years. ImOn also offers no data caps, so your security camera surveillance footage will never stop alerting you to potential threats due to data usage.
Home Wi-Fi security systems
Historically home security systems have been expensive, but prices have decreased recently with the number of residential Wi-Fi security systems available on the market. There are a lot of home Wi-Fi security systems to choose from these days. Below you'll find pros, cons, and general information on some of ImOn's favorite system choices.

Ring
Ring security systems offer homeowners several different camera options and are easy to install on your own. You can take your security system beyond just cameras by incorporating smart locks or other devices that are compatible with the Ring system. Whether you're just looking for a front door camera, or an entire 360 home monitoring system, Ring is a trustworthy option to check out.
Pros – Multiple device options. Ring App is mobile friendly and easy to use. Low-monthly/annual subscription fees (starting at $10 per month). Neighborhood alerts from other Ring users included with subscription purchase.
Cons – Higher initial fee (starting at $199). Shorter battery life compared to other camera options.
Blink
Blink is an Amazon company, and easily works with other Amazon devices like Alexa and Echo. They offer several indoor and outdoor camera options, most of them being wireless units so it's easy to place cameras in tough to reach spots or spots with no outlets in site.
Pros – Blink Home Monitor App is easy to use, mobile friendly, and delivers HD video playback. Affordable camera devices (starting at $34.99). Two-year battery life.
Cons – Only available for purchase online and delivery is 5-7 weeks minimum after purchase.
SimpliSafe
SimpliSafe offers DIY entire home security and was named "Best Home Security overall" by U.S. News & World Report. Whether you choose to install the entire system or just a camera unit, this service also includes a 24/7 dispatch team that alerts you when trouble is happening in your home and will stay in contact with you until an issue is resolved.
Pros – No contract required. Very easy to self-install. 24/7 dispatch team. Low monthly fee (starting at $14.99).
Cons – Not as high-quality of camera footage. Higher initial fee (starting at $229).
Cove
Cove was named "Best Home Security System of 2021" by U.S. News & World Report. The ease of installation for homeowners is a huge reason why. This wireless security system includes a 7-inch tablet that acts as the control for every other piece of hardware in the system. This also makes it easy and convenient to turn your system on and off, or even alert authorities to a medical emergency in the home if needed.
Pros – Very customizable. Includes Cove's TripleTouch™ Alarm Response and Cove LiveAssist™ for faster response times. Affordable monthly fee (starting at $14.99).
Cons – Premium subscription is required to use mobile app.
Vivint
Vivint offers total home protection and comfort through the use of a single app. Users can monitor their home for threats and trespassing, adjust the temperate, or even lock the doors all through the Vivint customizable system—offering homeowners true peace of mind. Vivint is also compatible with Alexa devices and Google voice command.
Pros – Homeowners don't have to worry about installation or setting the system up. High quality camera footage.
Cons – No DIY options. Monthly subscription is required for remote access. Higher monthly service fees (starting at $49.99).


Reporting Crime and Suspicious Activity
In addition to installing a home security system, another way to stay ahead of burglars is reporting crime or suspicious activity in your neighborhood and being aware of what others have reported. This can seem daunting to try and keep up to date with, and no one wants to constantly watch bad news on their feeds and TVs. Luckily there are some easier ways to keep up without having it take up your entire free time.
Nextdoor is an app where communities can come together and share all relevant news happening around the neighborhood. Each user is verified so you can be sure your feed stays local. It's a perfect place to help each other stay on top of any crimes or suspicious activities happening nearby.
Crime Stoppers is a resource for reporting crimes and potential crimes, as well as keeping up to date on crime activity both nationally and in your state and local areas. Crime Stoppers also provides regular newsletters and weekly TV shows with crime updates.
ImOn's high speed Internet and cable bundling options are reliable ways to power your home's security systems and stay up to date on crime and suspicious activities in our communities.
Stay safe!