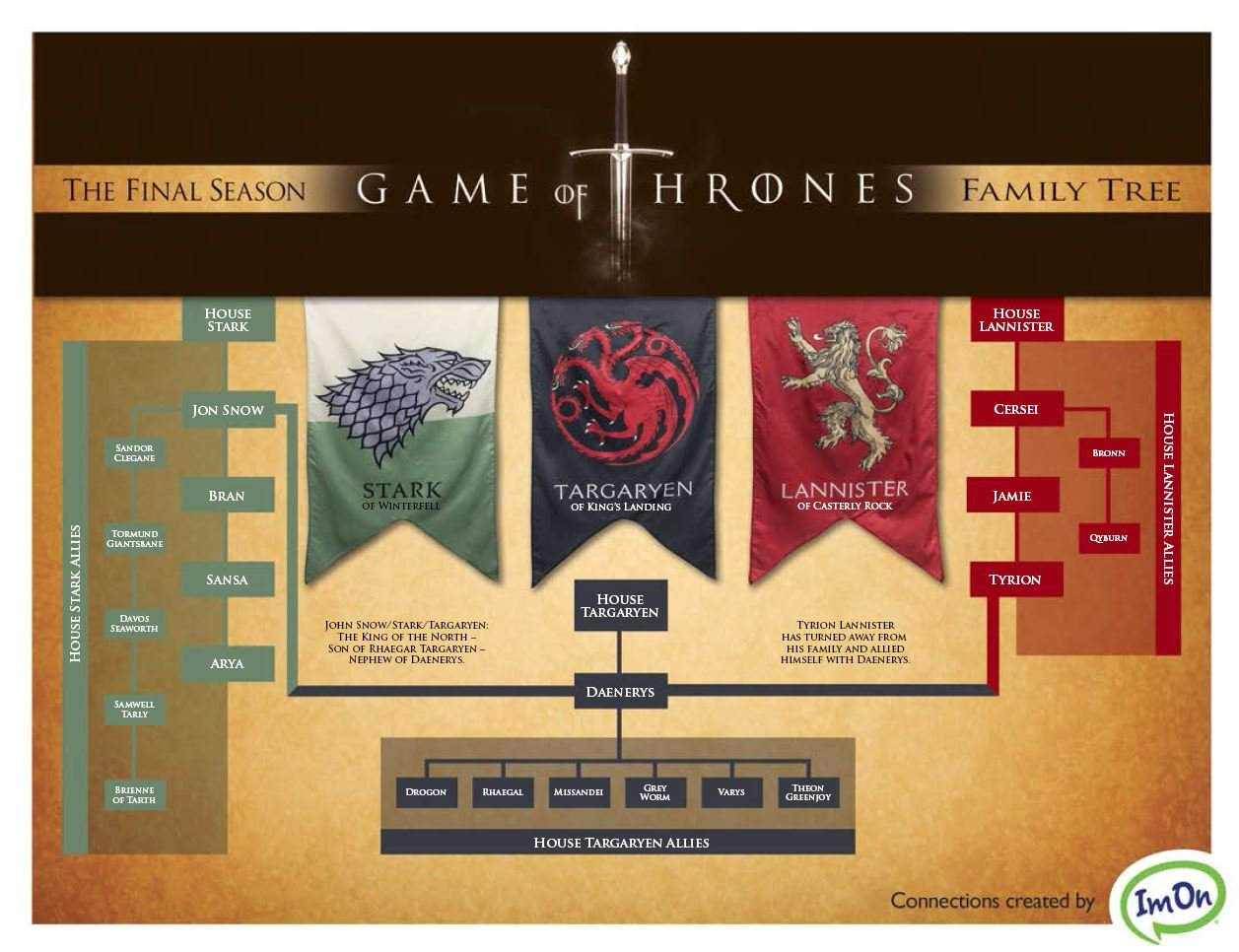 Spring may be here, but winter is coming in Westeros. The final season of HBO's Game of Thrones kicks off April 14th and it is shaping up to be epic. Don't have time to rewatch the first seven seasons? Need a refresher on who is related and who double-crossed whom? We can help. We created a printable chart and character descriptions to help you keep the major players straight, so you can be the one at your watch party with all the answers.
Don't have HBO? No problem! ImOn is offering a free preview of HBO and Cinemax from April 11th through the 14th. As long as you have an ImOn set-top box, just tune in to HBO (channel 250/858) or Cinemax (channel 256/866) and check out the best TV and movies on television.
Happy viewing, and best of luck in the coming war against the Night King!

House Lannister:
Cersei Lannister: The Queen of the Seven Kingdoms is the sister to Jamie (who is also her not-so-secret consort) and Tyrion. She has recently consolidated power by eliminating a large portion of her rivals.
Jamie Lannister: "The King Slayer" is brother (and consort) to Cersei and brother to Tyrion.
Tyrion Lannister: "The Imp" is brother to Cersei and Jamie, though he fell out with his family when he killed his father. He has since allied himself with Daenerys Targaryen.
Allied with the Lannisters:
Bronn: Ser Bronn of the Blackwater is an "up-jumped sellsword" that formerly served Tyrion, but now regularly serves alongside Jamie.
Qyburn: A disgraced and unethical former master, Qyburn now does Cersei's unscrupulous bidding.
---

House Targaryen:
Daenerys Targaryen: "The Mother of Dragons" and the last Targaryen, until we found out that Jon Snow's real father was Rhaegar, making him Daenerys's nephew.
Grey Worm and Missandei: These characters are former slaves who were freed by Daenerys and now serve her freely.
Allied with Daenerys Targaryen:
Varys: "The Spider" has been on many different sides, but currently finds himself serving Daenerys.
Theon Greyjoy: Formerly known as "Reek," Theon spent a majority of his life at Winterfell with the Starks, and is back on their side after seeking to ally himself with Daenerys.
---

House Stark:
Jon Snow/Stark/Targaryen: "The King in the North" has taken his rightful place at Winterfell. We also discovered that his father was never Ned Stark, but rather Rhaegar Targaryen, making him nephew to Daenerys.
Bran Stark: Bran is the newly minted "Three-Eyed Raven." Bran is brother to Sansa and Arya. For most of the show we thought Bran was Jon's brother, but they turned out to be cousins, with Bran's father, Ned, being brother to Jon's mother, Lyanna.
Sansa Stark: The acting "Queen of the North" is sister to Bran and Arya, and (technically) cousins with Jon.
Arya Stark: "The Girl of Many Faces" is sister to Sansa and Bran, as well as cousins with Jon.
Allied with the Starks:
Sandor Clegane: "The Hound" isn't a direct member of any of the great houses, but he has been in the service of a number of them. At the beginning of the final season, Clegane finds himself allied with Jon Snow and Daenerys Targaryen against the White Walkers.
Tormund Giantsbane: A member of the "Free Folk" or "Wildlings," depending on which side of the Wall you grew up on, is allied with Jon Stark against the White Walkers.
Davos Seaworth: "The Onion Knight" served Stannis Baratheon for most of the show, but has now teamed up with Jon Snow to fight the White Walkers.
Brienne of Tarth: Like Sandor Clegane, Brienne has been on many sides throughout the series. She currently stands with the Starks in the fight against the White Walkers.
Samwell Tarly: A friend of Jon's from the beginning, "Sam the Slayer" continues to support Jon with his research and knowledge.