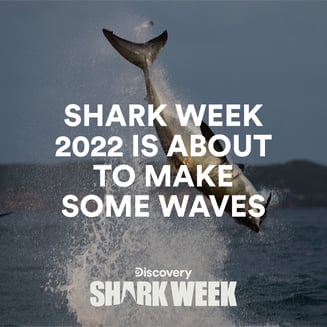 One of the most anticipated weeks of the summer is fast approaching and ImOn is here to help you dive into all of the heart-pumping action! Discovery Channel's Shark Week has become a summer tradition full of non-stop action. Kicking off on Sunday, July 24th, this year's Shark Week is filled with even more shark-filled programming, including brand new star-studded shows and never-before-seen underwater research that will have you on the edge of your seat. It's going to be jawsome!
Where to Watch:
Discovery Channel (ImOn channel 100 and ImOn HD channel 800

Stream through the Discovery Channel App on Watch TV Everywhere

Stream with a discovery+ subscription
2022 Shark Week Programs:
Throughout this year's 8 days of shark-filled content, Discovery and discovery+ will be providing viewers with 25 hours of coverage! Here are some of the highlights to look forward to:
Great White Open Ocean (Premieres July 24 at 9:30pm)

"In 2020, shark diving expert Jimi Partington nearly dies in the jaws of a great white shark. A year later, he looks to overcome his PTSD and get back in the water with the ocean's biggest mega-sharks. But what starts off as a positive experience, quickly becomes a battle for life and death."
Air Jaws: Top Guns (Premieres July 25 at 7pm)

"High-flying sharks are back, but with a new team competing to be the next "top guns" of Air Jaws. Dickie Chivell and Andy Casagrande use the latest high-tech cameras in hopes of capturing the largest breaching great white ever seen."
Impractical Jokers Shark Week Spectacular (Premieres July 26 at 7pm)

"The Impractical Jokers are the kings of hijinx and fearlessness in the face of public humiliation, but see what happens when they set out to dispel the myth that sharks are man-eating beasts the only way they know how – with extreme, mortifying challenges and dares."
Mechashark Love Down Under (Premieres July 27 at 8pm)

"Shark expert Kina Scollay and his elite team return with a unique one-man-submersible, the Mechashark, to a top-secret location off New Zealand attempting to do something that's never been done: locate a Great White shark mating ground."





Tracy Morgan Presents: Sharks! with Tracy Morgan (Premieres July 28 at 7pm)

"Tracy Morgan teams up with shark experts throughout the country to identify the craziest and most ferocious sharks in the ocean. From rare species to stealth predators, Tracy shows off his favorite sharks and their incredible capabilities and adaptations."
Shark Women: Ghosted by Great Whites (Premieres July 29 at 9pm)

"Alison Towner has risked her life many times, tagging and studying great white migration patterns in South Africa for the past decade. Now she's assembling the next generation of shark explorers for a spectacular adventure. Together, her all-female crew will pull all the stops — cage dive, free dive, drones, decoys, breeches, and more — to track her missing white sharks."
Get the full 2022 Shark Week Schedule here, and follow ImOn Communications on Instagram and Facebook to keep up-to-date and find some great shark-filled activities for the whole family.