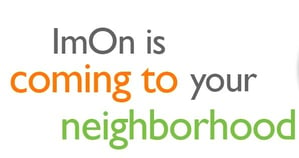 ImOn Communications today announced it is bringing fiber optic-enabled Internet, cable TV and phone service to the Bowman Woods neighborhood of Cedar Rapids and Marion, Iowa. ImOn's advanced technology brings a direct fiber connection to homes and businesses allowing more robust bandwidth speeds, clearer picture quality and enhanced voice service. Fiber also ensures customers will be less likely to experience any down time or connection issues compared to a traditional cable modem connection.
"ImOn is very excited to bring a superior Internet, cable TV and phone experience to residents of the Bowman Woods neighborhoods. We are particularly pleased to provide the local community with choice: the choice of a truly local provider, the choice to have access to the most advanced technology, and the choice to experience the highest level of customer service" said Adrian Kesler, ImOn's new Vice President and General Manager of the Cedar Rapids Residential Market. "We provide fiber Internet directly to the home, which allows family members to simultaneously use their favorite devices and unlimited HD streaming without worrying about buffering or down time. Fiber-to-the-home is the only technology that will deliver enough bandwidth and reliability to meet our customers' demands for the next decade."
ImOn's expansion into the Bowman Woods area will occur in phases. The initial phase is in the Southeast portion of Bowman Woods, where the company is currently building the network and preparing to install their first customers in the May-June timeframe. "Once we have completed this first area, we will continue to build and install in phases until we are up and running throughout all of Bowman Woods," said Mr. Kesler. During this build phase, residents will have the opportunity to take advantage of special pre-sale offers to lock in discounted pricing when they commit to ImOn's service.
ImOn was recognized for the 7th time in 2017 as the Best Local Internet Service Provider by the readers of the Corridor Business Journal. Besides providing great Internet, Cable TV, and Phone services as well as unmatched local-based customer service, ImOn also believes in supporting and investing in the communities they serve. Since 2014, ImOn has provided free community Wi-Fi service in downtown Cedar Rapids, at the McGrath Amphitheatre, Newbo City Market, various parks in Hiawatha, the Cedar Rapids Ice Arena and the Iowa City Ped Mall.
"We're a company of people who derive genuine satisfaction from taking care of our customers and communities," said Mr. Kesler.

If you would like more information about ImOn Communications and the services we provide, visit www.ImOn.net.
Disclaimer: The information contained in this blog (or any of its hyperlinks) is published in good faith and is for general informational purposes only. ImOnInsider.com does not make any warranties about the completeness or accuracy of this information. Any action you take upon the information found on this website is strictly at your own risk. ImOn Communications is not liable for any losses and/or damages in connection with use of our website (ImOnInsider.com).