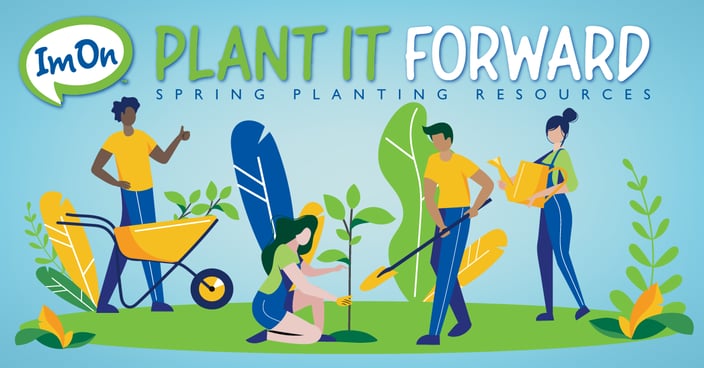 The Season of Outdoor Living and Landscaping is Upon Us
The bags of mulch are getting opened, decks are being stained, outdoor lights are getting strung up, no more frost covered lawns to greet us in the morning (fingers-crossed anyway). The season of outdoor living is finally here. Chances are your landscaping and lawncare to-do lists probably look a bit more extensive this spring due to the natural disaster our community suffered last fall. ImOn's list sure does.
Tree Giveaway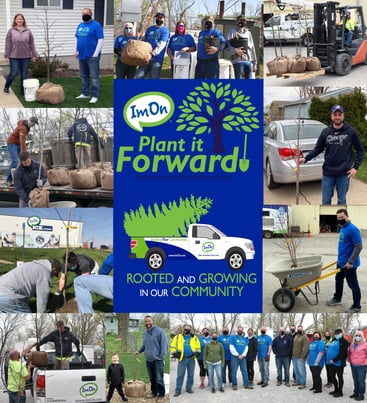 As we all know, the derecho that tore across eastern Iowa on August 10th was beyond devastating to our community, and especially devastating to the trees throughout the affected areas. In Cedar Rapids, almost 70% of the city's tree canopy was destroyed during the 40-minute storm. The short-term effects could be seen immediately, and there's still hundreds of hours of clean-up work to be done around the city. What's not as easily seen though are the long-term effects that losing so many trees could cause our community. Some of these include increased energy costs due to the lack of shade the trees gave our homes, increased storm water runoff and the loss of habitat for many animals and insects.

ImOn is a local company, and we're committed to helping our local community thrive. That's why we've decided to plant 200 trees around the Corridor, and we wanted our employees and loyal customers to get in on the action! We teamed up with Monarch Research Group to give 10 of our loyal customers the chance to win a free 15-gallon Swamp White Oak tree, and we gave each employee the opportunity to plant one of these trees at their home. The trees distributed through the program are all native species and contribute to the crucial ecosystem for birds and pollinators.

Learn more about The Monarch Research Group and their mission of creating living landscapes throughout Linn County to help flatten the steep downward trend in the pollinator insect population and associated species.

Planting Trees: Wondering Where to Start?
First, you should schedule an appointment to have your properties utility lines (gas lines, water lines, power lines, etc.) properly marked through Iowa One Call. This will assure you don't run into any issues while digging in your yard that could lead to your to-do list growing even longer.
Some other things to keep in mind while selecting the location of your tree are:
Find out if the city requires a permit to plant a tree in a utility easement, if you plan to do so.
Will there be enough sunlight throughout the day getting to your new tree?
As the tree grows, will it brush up against your house or become entangled with any power lines or other overhead obstacles?
Make sure the tree isn't too close to your home's foundation, as tree roots won't be able to grow underneath of it.
Will it be easy to water the tree? New trees will often need a lot of water in the beginning stages to develop good and healthy tree roots.
Once you've verified the location of the new tree, be sure to check out this helpful how-to guide on planting your new tree from the Home Depot.
Jumpstart Your May Regrowth
Connect with the pros and get the inspirations you may need through ImOn's high-speed Internet streaming options, or ImOn's variety of digital cable TV packages. Tune into these shows to get ideas, inspiration, tips and tricks for your upcoming landscaping and lawncare projects.
Backyard Takeover – Watch on Discovery+
Landscape Designer, Jamie Durie helps deserving families turn neglected overgrowth into the backyard of their dreams.


Curb Appeal – Watch on HGTV (Channel 825)
Watch John Gidding and his crew go to work on real homes and transform the outdated into stunning. You might even pick up a few ideas for your own home along the way.


I Hate My Yard – Watch on DIY Network (Channel 126)
Some homeowners absolutely love their homes but absolutely hate their yards. Landscape Designer, Sara Bendrick is here to help fix that balance for different homeowners on each episode of I Hate My Yard. Watch as Sara helps turn these homeowners' yard-inspired frowns upside down.


Big Dreams Small Spaces – Watch on Amazon Prime
Tune into "Britain's most loved gardener" Monty Don as he helps England's gardeners of all levels of experience plant and grow the gardens of their dreams.


Backyard Envy – Watch on Bravo (Channel 850)
This series follows New York City's most exclusive exterior design and landscaping firm from Manhattan rooftops to suburban backyards as they help their clients turn ordinary into extraordinary.



Here's some helpful apps that you can add to your outdoor toolbox.

SmartPlant – This app can help you identify over 20,000 different kinds of plants. It also includes a Digital Care Calendar that keeps track of what your garden, and the specific plants in it, need to stay their healthiest.

GardenTags – Get free plant advice, information on dealing with pests and weeds and inspiration from a community of gardeners just like you. This is the perfect app for the social gardeners.

PRO Landscape Home – Get the tools you need to redesign your home's landscaping. This app lets you map your potential landscaping designs and updates out prior to making any purchases. Just snap a photo of your lawn and let your inner artist come to life.

PictureThis – It's like having a botanist in your pocket. This app identifies flowers, weeds, exotic plants and more with 95% accuracy. Get care advice and help on which toxic plants or berries you should avoid.

Scott's My Lawn – Keep your grass the greenest it's ever been by creating your personal lawn program in five easy steps.