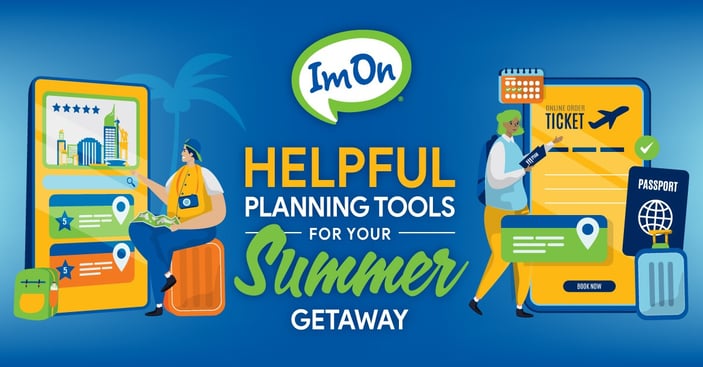 The summer solstice marks the official beginning of summer at the end of this month, meaning
it's time to start planning that annual summer getaway! There is no doubt that the days of
physical maps are well behind us, but we sometimes fail to realize that there is a lot more out
there than Google Maps or GPS navigation. Whether you are looking for a vacation you can
drive, fly, cruise, or ride a train to—we've compiled a variety of handy internet resources
below!


Narrowing Down Your Trip
To begin planning your summer trip, you first need to decide exactly what type of trip you
want! There are many factors to consider, like distance, budget, activities, and more. For
instance, if you are looking to rest, relax, and soak up some sun—you may prefer a beachside
vacation or even a cruise. Perhaps you want to explore the bustle of a big city, high-end fashion,
and all the sights. If you look forward to staying active, exploring nature, and enjoying evenings
under the stars then you might need a road trip that includes camping, hiking, and a little bit of
"roughing it."

Maybe your perfect getaway includes a mixture of things? If you have no idea where you want
to go, consider a spontaneous trip using a tool like Earth Roulette or Expedia to select
destinations and trip dates. Earth Roulette allows you to filter by continent and activities,
allowing for a controlled spontaneity! If you are super brave, you can always head to the
nearest airport and catch the cheapest flight out, just like the movies!


Finding the Perfect Place to Stay
Thanks to modern technology and innovation, there are endless housing accommodations for
vacations.
Booking.com: Having been in the game for a long time, hotels are often reputable, convenient, and comfortable. The downside? They can be expensive, especially for trips that require multiple
nights. Larger websites, like Booking.com, can be helpful when exploring hotels, comparing
rates, and more!
The Dyrt: If you prefer cooking breakfast over the open fire instead of a continental breakfast, you can explore The Dyrt—a resource for finding camping and glamping destinations. The Dyrt allows
you to begin your search by location and date. From there, it lists all campgrounds in that area
and allows you to narrow it down further based on the campsite and access types, features,
rating, and more.
Airbnb or VRBO: If you are looking to escape those pricey hotel rates but still prefer structures with running water, then Airbnb or VRBO might be the route for you! Not only do these offer beautiful and unique homes, but they are typically more affordable than a hotel, have more space, and can accommodate larger groups. Both Airbnb and VRBO offer similar services, with a few differences that may feel minor to users. One main difference is that Airbnb gives the option to rent a single room in a shared space, meaning you might be cohabitating with the owner or other visitors. VRBO, on the other hand, focuses on completely private rental properties. Service fees also tend to be less on VRBO.
HostelWorld: If you are traveling alone or in a small group and enjoy meeting new people, you might consider staying in a hostel. Hostels are designed like dorms, with multiple beds in a room and community bathrooms. Travelers rent a bed for the night—meaning they may share a room
with complete strangers. This might feel intimidating, but this is also why hostels are known to
have very low costs per night. Booking through a reputable source, such as HostelWorld, and
reading reviews are great ways to ensure your hostel is clean and safe. Hostels are everywhere in Europe and are becoming more common in the United States. A few things to be aware of are hostel curfews, theft risks, shower sandals, and lack of spare supplies.

Getting To Your Destination
While figuring out where you want to stay is important, it's useless unless you know how you're
going to get there!
Google Maps/Roadtrippers: Depending on how far away your destination is, it might be more cost-effective and convenient to drive there. Not only is this easy from the start, but you will have your own transportation available to you throughout your trip. While GPS is a magnificent thing, it may be a good idea to have some understanding of your route beforehand. Using Google Maps or Roadtrippers might prove useful for this.
AutoSlash: If you are worried about wear and tear on your vehicle or are looking for a lengthy road trip experience—it might be worth looking into a rental car. Websites like AutoSlash can help you
locate the best deals on rental cars near you. AutoSlash also offers an entire page dedicated to
coupon codes organized by different rental companies.
Amtrak: Railway systems, like Amtrak, are making a major comeback and might be the transportation solution for you. Like flying, you have the perks of being a passenger, meaning you are free to read a book, get some rest, or socialize as you please. Unlike flying, you are typically allowed to bring more luggage, you can book private rooms, and arrival and departure processes take less time. Trains are also more environmentally friendly than planes.
Vacations by Rail: You can even plan your entire trip around a train ride with Vacations by Rail, a travel service offering experiences from national park tours to rail and cruise combinations! This is a great way to see a lot of places at once without the hassle of driving or flying. Whether planning a
family vacation, a honeymoon, or a group trip—this unique option has lots to offer.


What to Do on Your Trip
Many of us take to Google to search for activities to do on our vacations, but if you are looking
for specific resources, we've got a few.
AllTrails: If you are looking for an outdoor element for your trip, or even planning an entire trip around hiking, then AllTrails is for you! This website allows you to search for hiking trails by location, and lists information such as trail difficulty, ratings, duration, length, and more! You can sort by activities like hiking, running, biking, backpacking, off-road driving, and more! If you are
planning a trip with kids or someone with accessibility needs, AllTrails allows you to search for
trails that are stroller, wheelchair, and pet friendly.
Dietary Resources: Good eats are crucial on vacation! While most places have something on the menu that can be eaten or modified by our dietary restricted friends, this can be overwhelming when trying to decide on a place to eat in an unfamiliar place. For gluten-free, vegetarian, and vegan travelers—there are sites like Find Me Gluten Free and Happy Cow. Both Find Me Gluten Free and Happy Cow allow users to search by ZIP code or city to identify restaurants that offer
gluten-free, vegetarian, or vegan menu items. Find Me Gluten Free even offers the ability to narrow it down by local businesses, types of food, and level of gluten-free dedication. Happy Cow identifies nearby vegan overnight accommodations, featured products, and more!
TripAdvisor: It's a commonly used tool already, but TripAdvisor is a great resource for planning your next getaway! You can search any city and the website will break it down by things to do and see, places to eat, and hotel and rental options. You can even search travel forums and get answers and advice from people who have been there before. Regardless of where you are going, ImOn is dedicated to making sure that your internet connection is never a barrier to your planning process.

Safe travels!