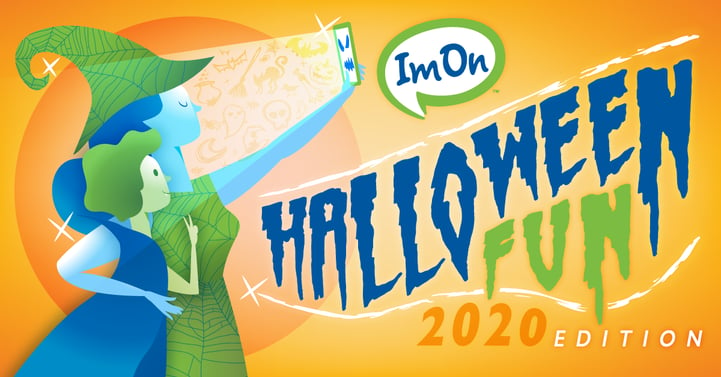 Like almost everything in 2020, Halloween is going to be a little different this year. But that doesn't mean it can't still be fun. We're here to help you get into the spooky spirit from home—whether you're trying to entertain the kids or just yourself. Keep reading to learn how to create a ghoulish Halloween experience without having to leave the house.
Dress Up Digitally:
Just because you may not be taking the kids trick-or-treating door-to-door this year and your favorite Halloween party is cancelled, that doesn't mean you can't dress the whole family up or challenge your friends to a digital costume contest. There are thousands of apps and websites that allow you to add Halloween elements to your pictures. Below are a few we've been playing around with, but you can pretty easily find other options with a simple search.
Spooky AR Adventures:
From augmented reality haunted houses (in your own home) to hunting ghosts and killing zombies, AR is a great way to get the Halloween experience while still staying safe.
iPhone users can transform their own house into a virtual haunted house with

Haunted House Creator

. You can create your own scary obstacles and

place triggers that make creatures jump out, chase, attack, scream, or frighten from a distance.

Then have family and friends use your iPhone to experience your spooking AR creation without ever leaving the house.
Android users can also have some spooky AR fun with

SpecTrek

. This ghost hunting app functions similarly to Pokémon Go. You use the map to venture around your neighborhood and capture ghosts. You can do this as a group or compete against friends and family.
For more mature iPhone users,

Zombies GO!

let's you live out your zombie apocalypse fantasies. Using your phone and AR technology, you track down zombies and take them out with your arsenal of weapons.

Virtual Trick or Treating:
If it's just not Halloween for you without trick or treating and you still have your Halloween candy budget stashed away, you can use that money to buy candy credits that kids can collect from you virtually and redeem for real candy later.
This requires some organization to get people in your neighborhood to sign up, but once you do that kids can trick or treat virtually!

Treat Town

was created by the Mars Wrigley company as a way to continue to sell Halloween candy while people are still socially distancing. You use real money to buy "candy credits" and virtually hand those out through the website or app. Those virtual trick or treaters (or their parents) can then redeem those credits for real candy.
Spooky Movie Night:
You don't have to overthink your Halloween at home activities too much though. You can always do your standard movie night, but with a Halloween specific movie.
Just like previous years, Freeform (channel 826) has

wall to wall Halloween programming

for the entire month of October with Halloween classics like Ghostbusters, the Halloween series, Beetlejuice, The Simpsons' Treehouse of Horror-athon, and SO much more. Most of Freeform's Halloween programming is pretty family-friendly, especially during the times when kids are usually awake. ImOn customers can also access Freeform with

TV Everywhere

.
If you're looking for something a little more frightful, AMC (channel 864) is regularly showing horror films in the evenings through October. If you like the Halloween franchise and similar movies like the Chucky series, Children of the Corn, and Carrie, you'll want to check out

AMC's Halloween lineup

If you're of the opinion that horror movies were just never as good after 1975 or so, you're going to love TCM (channel 70) all this month. TCM will be showing dozens of horror movies from the late 1940s to the early 1970s.

Click here to see TCM's lineup

. TCM is also available with ImOn's

TV Everywhere

.
If you're excited about creating virtual costumes and gruesome makeup, or you're already planning your virtual haunted house, make sure your Internet connection can keep up. You may need to consider bumping up your Internet bandwidth. Just contact ImOn and ask about our options for spooky fast Internet speeds.