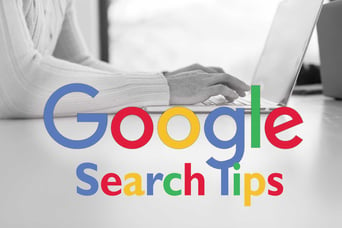 Long gone are the days of having to look up information in an encyclopedia or going to the library to research something. Now we simply 'Google it'. Google is one of the most used search engines in the world, performing more than three billion searches a day. In a fraction of a second, Google can give you links to hundreds of millions of websites for answers to all of your questions. But did you know there are tricks you can use to help Google narrow down your search to help you find your answer faster? Here are just a few tips to help make your searching more efficient.

Use the tabs.
Across the top of every search page, there are tabs labeled Web, Images, Videos, News, Shopping, etc. While many people already use these search tabs, it is an easy way to help define what kind of search you want to do. You can use the Image tab to search for just image files, or the News tab to look for recent news articles. While these tabs are meant to give you more general search results, they can help reduce your search time.

Use quotation marks to find the exact wording.
When you are trying to search for something specific, try using quotation marks around the phrase you are searching for. By putting your search parameters inside quotation marks, it tells Google to only look for the words you entered in the exact order you entered them. This helps Google know exactly what you are looking for and narrows down your search results for a better match.


Use a minus sign to remove words from a search.
To help narrow down your search results, use the minus sign to tell Google to omit certain words from your search. This trick comes in very handy when you are searching for a word that may have a double meaning or when you are getting a lot of search results that aren't of interest to you. Simply add the "-" symbol in front of the word(s) you don't want your search results to include. For example, if you search " Mustang," Google will give you results for both the Mustang car and the Mustang horse. But you only want results for the Mustang car. Instead, use the minus sign and search for "Mustang – horse." This tells Google to search for mustangs but to remove any results that have the word horse in them. This tip can save you lots of time when doing searches.


Use "OR" to combine similar searches.
By using "OR" between two different search words or phrases allows Google some flexibility in its search. The "OR" means Google will search and show results for one term or the other, or both. This usually comes in handy when you are searching for two similar words or subjects. An example might be searching for "chocolate" OR "White Chocolate".


Use the asterisk wildcard.
Use an asterisk in your search when you are searching for quotes, titles, expressions, or song lyrics and you are unsure of the exact/entire phrase. Google uses the asterisk as a placeholder for an unknown or variable word. It will then search for all variations of that phrase. It is kind of like a wild card!


Use "DEFINE:" to learn the meaning of words.
Forget the dictionary, Google can also provide definitions for words, including slang words. Just type in "DEFINE:" and a word, and Google will give you the definition, pronunciation, and more.
While these are all tricks to help make your Google searches more efficient, there are also some fun things you can do with Google. It has a host of built-in games, including Pac-Man, tic tac toe, Solitaire, Minesweeper, and Snake. There are also tools like a calculator, metronome, breathing exercises, and more. What can't Google do?