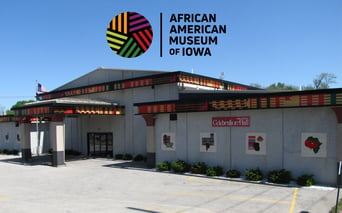 Join ImOn and The African American Museum of Iowa in celebrating this important month.

The African American Museum of Iowa (AAMI) is the only institution in the state whose sole mission is to preserve, exhibit and teach the African American heritage of Iowa. The Museum envisions building a community that comes together to foster a greater understanding and appreciation of Iowa's African American history & culture through conversation, engagement, and reflection. The Museum offers changing exhibits, traveling resources, educational programming, presentations and performances (in-person and virtual), as well as an extensive collection.

The Museum's current temporary exhibit, Unwavering: 21st Century Activism allows audiences to engage with contemporary social movements from Black Lives Matter to the Me Too movement. Through objects, stories, and hands-on activities, you can explore the stories of groups who continue to bring to light the struggle for Black civil rights and equality that began centuries ago. Within this exhibit you can develop an understanding of the past and present social movements involving the Black community, engage in the meaning of protest and social justice in the modern era, and become empowered to work for change within your own community. The exhibit will be on display through August 2021.

The more you know…
Here are a few fun facts about the African American Museum of Iowa
The African American Museum of Iowa was founded by a small group from Mt. Zion Missionary Baptist Church in Cedar Rapids.


Westdale Mall was the first location of the African American Museum of Iowa (AAMI).


The Iowa Griot is the name of the AAMI's quarterly newsletter. Griot is a West African historian, storyteller, praise singer, poet, or musician. The griot is a repository of oral tradition.


The Museum's community hall is named after a prominent Muscatine leader, Aldeen Davis.


Here are a few links if you would like to learn more about Black History Month or famous African Americans in Iowa history.