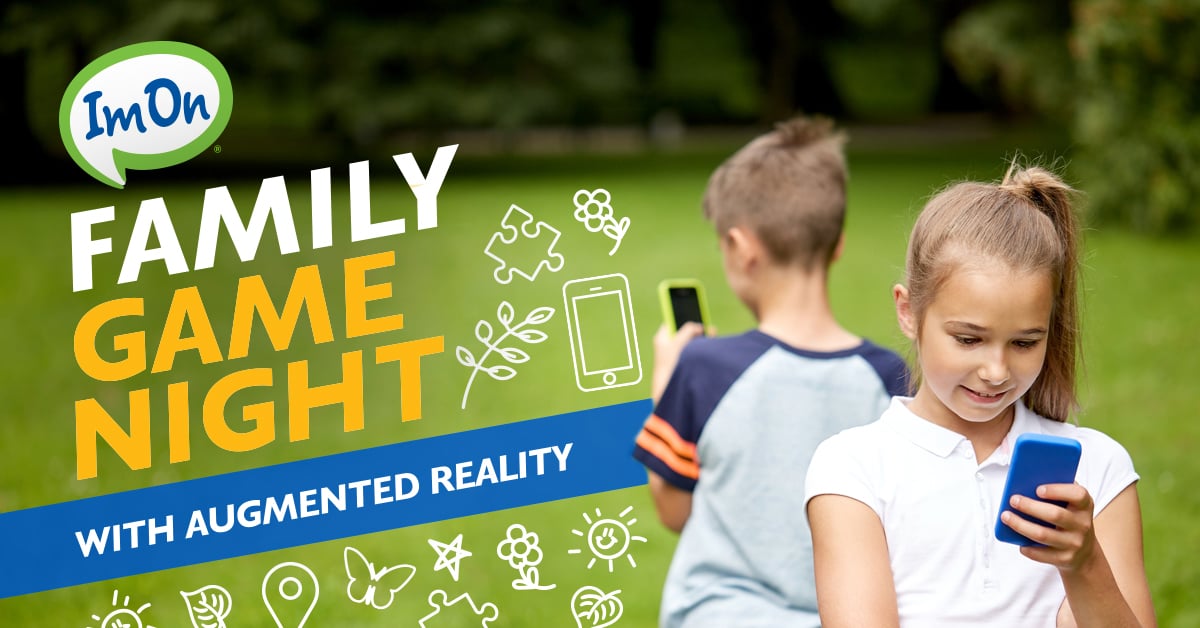 Looking to get the kids off the couch and spend some quality time together this summer? Augmented reality apps are a great way to get the family outdoors.

What is Augmented Reality?
Augmented Reality, or AR, is a technology that enhances your view of the real world with computer-generated images and sounds that magically appear on your device screen. When your camera is turned on, your AR app superimposes various characters and objects into your view that you can interact with through your device. If you're a Snapchat user, you already see AR in action whenever you use one of their video filters.
While many AR games are great for solo play, most allow you to play alongside others as a team, making them a great option for family game night. And since part of the fun of augmented reality is exploring the real-virtual world hybrid, going outside is a must to get the full experience.

Family-Friendly AR Apps We Love
Looking to test out AR for yourself? Try one of these highly-rated apps in your favorite park, on vacation or in your own backyard:


Good for families with young children (6+)
Some educational value
Based on Eric Carle's classic book, this app lets your little ones hatch, feed and grow their own Very Hungry Caterpillar until it transforms into a butterfly and a new adventure begins.
Not only does this app educate kids on the life cycle of butterflies, it also helps prepare them to take care of pets and teaches an appreciation for Mother Nature and her many living creatures.
Great educational value
Young children may need an adult's help using the app
Wish you knew the constellations better? Night Sky helps you identify stars, planets, satellites and more by holding your phone up to the sky. It uses AR to overlay images of constellations directly on top of your view of the sky, taking out the guesswork and adding another dimension to the stargazing experience. iOS users can even ask Siri to locate objects like the International Space Station, and Night Sky will show you where to find them.
Stargazing is a great activity to help wind down before bedtime and can be quite soothing for kids and adults alike.


High on entertainment, low on education
Fun for all ages
Great for getting exercise & staying active
In-app purchases may be tempting
Requires a device for each player
One of the first AR apps to take the world by storm, Pokémon Go, or PoGo, is not only still around—it's more popular than ever with kids, adults and even seniors. In this game, players search the world for mythical (and often cute) creatures known as Pokémon, which they can collect, trade and battle.
PoGo has benefitted from years to refine their game play, adding new Pokémon, new features and new ways to interact with other players. Since Pokémon Go requires a fair amount of walking and exploring, adult supervision is important for young children, and provides opportunities to teach them to respect boundaries and navigate public places safely.


High on entertainment, low on education
Fun for older families
Great for getting exercise & staying active
In-app purchases may be tempting
Requires a device for each player
The latest AR app that has everyone talking is the new Harry Potter Wizards Unite, which was released early this summer. Similar to Pokémon Go, users follow a real-world map as they encounter magical creatures, cast spells and collect items for making potions.
This game is much more text-heavy than Pokémon Go, and is a better fit for kids ages 12 and up—though younger Harry Potter fans could play alongside an older sibling or parent.


Parental supervision required
Builds real-world skills
Fun for all ages
Great for getting exercise & staying active
Great vacation activity
Out-of-app purchases can add up
The ultimate treasure hunting game, Geocaching will get your family working as a team to find items and messages hidden throughout your city, state, and country—and everywhere around in the world.
Here's how it works: Create an account and open your Geocaching app to see "geocaches" near your location. Pick one that interests you and use the app to help you locate the item using a GPS signal and some good old fashioned digging. You can also get in on the fun by hiding your own geocache.
While the Geocaching app is free, you can buy real gear to help in your hunt at the Geocaching shop. Since this app will take you all over your city, we recommend this as a family activity—adult supervision is a must.
What You Need to Know Before Your First AR Game Outing
Be prepared to spend an entire afternoon exploring with your AR apps—don't forget to apply sunscreen and bug spray, wear comfortable shoes, and bring plenty of water to stay hydrated.
Keep in mind that AR apps need a constant connection to the Internet and if you are wandering through areas with no Internet, you will need mobile data to stay online. While the exact amount of data used by a specific AR game is a little hard to pin down, Verizon believes the average is about 10MB of data per hour. Also, many AR apps like Pokémon Go frequently release large software updates that may be slow to download using your cellular network. Depending on your data plan, these may also incur additional fees. For these reasons, we always recommend that you check for updates and download them through your Wi-Fi network before you head out on your adventure.
Happy exploring!