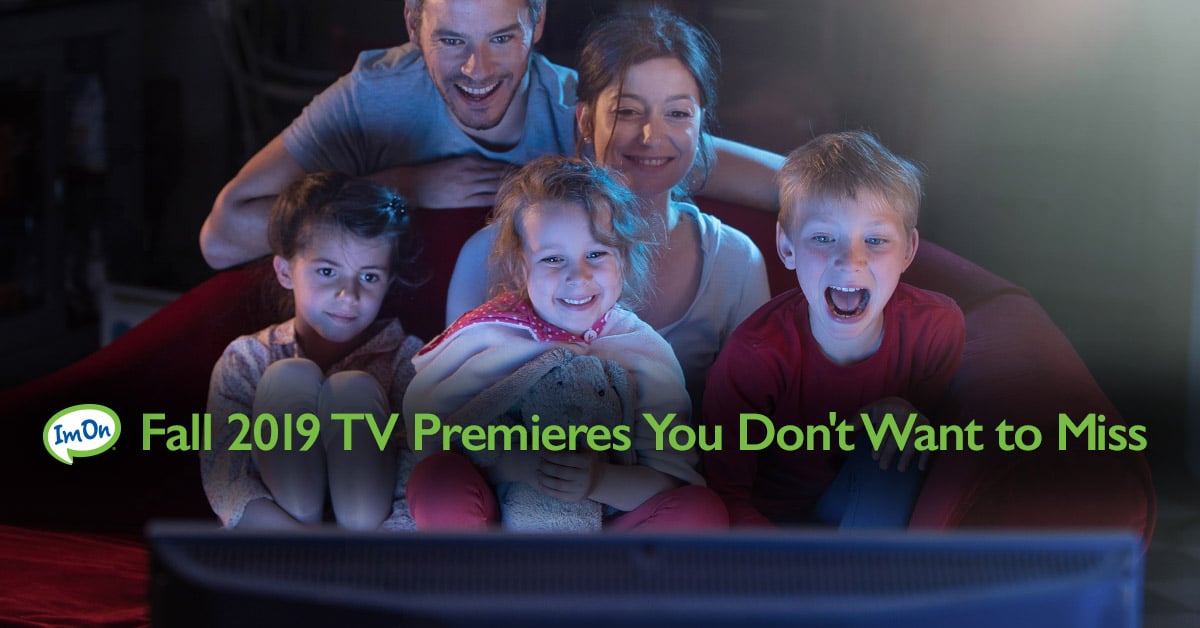 The wait is almost over! It's fall TV premier time, which means you can stop rewatching episodes of The Office that you've already seen hundreds of times. No matter what you're into, there's a show out there for you:
Miss Sons of Anarchy? Mayans M.C. is the spin-off you've been waiting for. Think "bird law" is a funny idea? Check out, It's Always Sunny. Are you ready for some football? The NFL regular season returns on September 5th. Can't get enough of rich oil tycoon family drama? Have you seen the CW's reboot of Dynasty yet?
Whether you're looking for an old favorite that's returning this fall, or a new show to throw yourself into, check out some of our suggestions for fall viewing on ImOn.

Sunday, August 25th:
The Affair — Showtime (ch. 860/200) 8pm
The fifth and final season of The Affair kicks off a great season of fall premieres. There are a lot of plot lines to tie up after last season's horrific events.

Tuesday, September 3rd:
Mayans M.C. — FX (ch. 856/56) 9pm
This Sons of Anarchy spin-off, centered on EZ Reyes, will help SoA fans deal their withdrawal, and you may even find a new favorite.
Thursday, September 5th:
NFL Football — NBC (ch. 807/7) 7:20pm
Football is back, and the season kicks off with the oldest rivalry in the league—the Green Bay Packers versus the Chicago Bears.
Monday, September 16th:
Dancing With The Stars — ABC (ch. 809/9) 7pm
After some controversy at the end of last season, DWTS skipped their traditional spring season, leaving us all the more excited for this upcoming premiere.
Wednesday, September 18th:
American Horror Story: 1984 — FX (ch. 856/56) 9pm
Returning for its 9th season, the latest addition on the series tips its cap to 1980s "slasher films" with its subtitle, 1984. But, as usual, the upcoming season is shrouded in mystery.
Sunday, September 22nd:

The Emmys — Fox (ch.) 7pm
Get some snacks and find a comfy chair, because this year's Emmys will broadcast the presentation of 27 awards. With the expanded line-up you can have even more fun with your Emmys pool.
Tuesday, September 24th:
Mixed-ish/Black-ish — ABC (ch. 808/8) 8/8:30pm
ABC spun-off its hit Blackish to feature Rainbow Johnson growing up in a mixed-race family in the 1980s. If you loved Black-ish, this is a must watch. As a bonus, immediately following the premiere of Mixed-ish, ABC will premiere the latest season of Black-ish.

This Is Us — NBC (ch. 807/7) 8pm
Even if you're still a little teary-eyed from season 3, there are a lot of questions we are hoping season 4 will answer. Even more good news—This Is Us has been picked up through season 6!
Wednesday, September 25th:
The Masked Singer — Fox (ch. 808/8) 7pm
While the premise might have seemed a little strange a year ago, this show really took off. If you didn't guess any of the masked singers during season 1, you'll have more chances this season. If you haven't yet, check out the costumes for season 2.

It's Always Sunny in Philadelphia — FXX (ch. 841/41) 9pm
The Gang is back for their record setting 14th season. Sure, they're self-absorbed, but it sure makes us laugh!
Sunday, October 4th:
Batwoman — the CW (ch. 810/10) 7pm
Building off the success of Supergirl, the CW is premiering a new superhero show featuring a female lead on Sunday nights. Much of the plot is still under wraps, but we know that Batwoman will be needed to save Gotham after Batman has mysteriously vanished.
Wednesday, October 9th:
Nancy Drew — the CW (ch. 810/10) 8pm
Yeah, your mom read all the Nancy Drew books, but this reboot isn't your mother's Nancy Drew. Taking cues from Riverdale, Nancy Drew is part of the CW's dazzling fall lineup.
Friday, October 11th:
Dynasty — the CW (ch. 810/10) 8pm
After a shocking season 2 finale (we won't spoil it in case you haven't see it), Dynasty returns for another season with some new faces, but all the drama we've come to expect from the Carringtons.

If there are other shows you're excited to watch that we didn't list, you can find a full list of season and series 2019 fall premiers below.