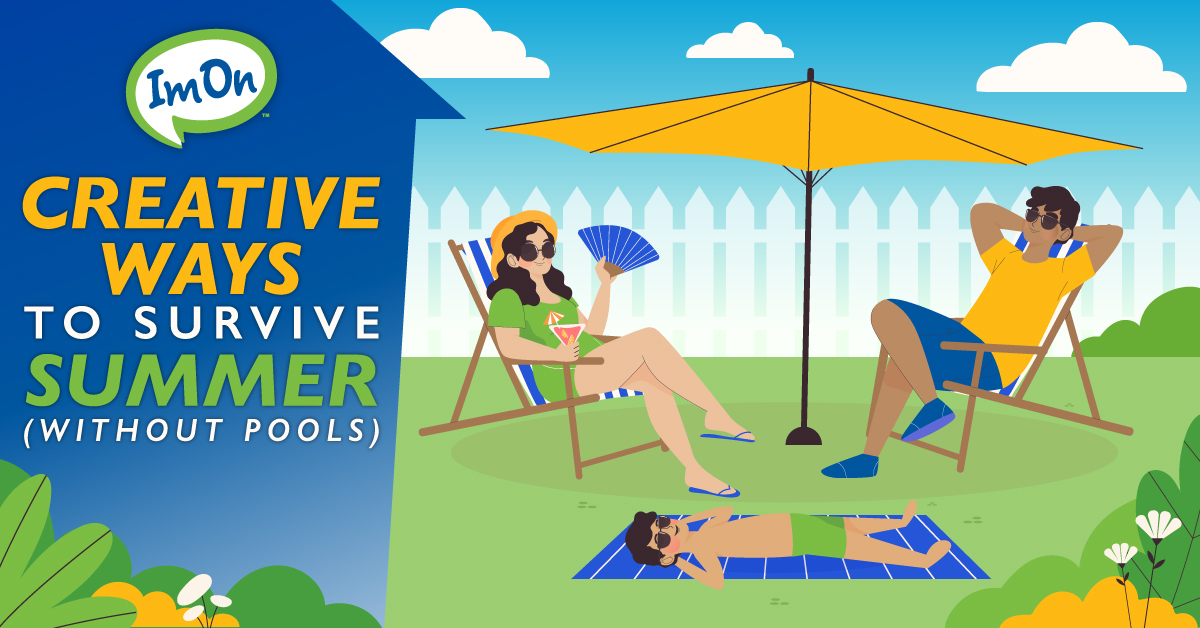 Stuck at home this summer? Here are some (cheap!) ways to still have fun
The COVID-19 pandemic has a lot of us reassessing summer activities, and if you've decided to skip your annual vacation to stay at home, we've got a few ideas to keep you and your family entertained, even if you're in your own backyard and not the at the beach or in the mountains.
For these ideas to work, it helps to be ready to do a bit of Do It Yourself labor, but we know you have it in you. Come on, let's get going!
Decorate rocks: Take the family out for a walk at a nature preserve and collect some palm-sized rocks. When you have a dozen or so rocks, bring them home and wash them in the kitchen sink. Once they dry, bring out some paint and paint brushes and let the kids go wild adding vibrant colors to stone palettes. Place the rocks in planters, on the patio, or in the flower bed along the front sidewalk where passers-by can enjoy them.


Organize a beach day in the backyard: Grab your towels, swimsuits, sunglasses and hats and pretend that you're headed to your favorite beach! Pack a cooler with sandwiches and cold drinks, and maybe even add an umbrella. If you have a sandbox, build a sandcastle and make designs in the sand with shells you've collected in summers past. Ask your kids to talk about their favorite memories of beach vacations. If it gets too hot, turn on the sprinklers or break out the ice cream bars!


Chalk bombs: OK, this idea could get a bit messy, but we know you love a good mess, right? Use a clean soap-dispenser pump to fill water balloons with a washable paint mixture (1 cup of water, 2 tablespoons of cornstarch, and a few drops of food coloring). Have your child draw targets on the ground with chalk or just let him or her go wild. Fire away!


Backyard obstacle course: Use things you already have in the garage or garden shed to create an outdoor obstacle course of hula hoops, jump ropes, sticks, stones, and hoses. Let your kids design the course with things they find around the house. Organize a competition between siblings and parents and let the fittest or fastest member of the family gloat for winning the grand prize!



Sidewalk Obstacle Course: If you don't want to drag everything out for an obstacle course, try a sidewalk obstacle course. The only things you need are sidewalk chalk and either a sidewalk or driveway. Create a starting point and draw different activities down the sidewalk or driveway. Some activities to try including zig zags, follow the line, a maze, shapes to hop into, lines to jump over, balance beams, and hopscotch. You can also incorporate things like spelling, dancing, saying the alphabet, jumping jacks, or clapping between each activity to add more fun.

Water baseball: If you've got some baseball fans in your household, we've got the perfect outdoor activity for you! Get out your bats and instead of tossing a baseball, use water balloons to create a game that lets your kids practice their swings and cool off. The family member who hits the most balloons wins!
But hey, if these ideas seem too difficult to execute, experts say it's also okay to embrace boredom! Yes, that's right, let your kids be bored. Research shows that boredom encourages kids to explore their own interests, enhance their curiosity, and learn how to entertain themselves. This might also give you some time alone to relax with a good book, just like you used to do in a beach chair or on a cabin porch. Enjoy!