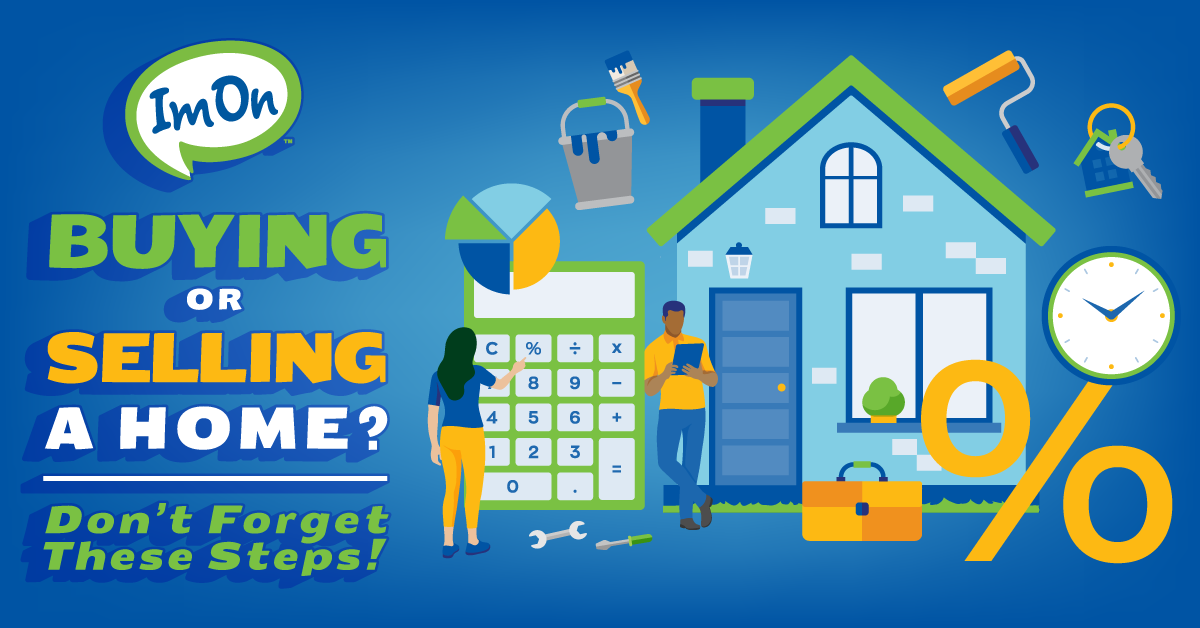 "Lightspeed" is often used as an exaggerative description of when something is happening so quickly that we feel like we might be losing control. In today's housing market, buying and selling a home can certainly fall into the cycle of moving too fast and feeling like you're losing control. But the rate at which houses are selling doesn't need to scare anyone off. Buyers and sellers just need to have a plan and be prepared. Just like lightspeed helped Han Solo escape trouble in the Millennium Falcon, you too can take advantage of the lightspeed housing market!
With ImOn, getting the connection you need at your new place is made simple.

Do's & Don'ts when

Buying

a Home
DO check out the neighborhood.


It's always a good idea to take a drive through the neighborhood of a potential home you're buying. Make sure your commute will be manageable and check out nearby schools if you have kids. Ensuring your perfect home doesn't have a 'nightmare neighbor' means driving around the area at all times of the day and even night if your schedule allows you to do so.



DON'T buy a house based on emotions.


If you buy a house because you've fallen in love with it, it's possible you could just as easily fall out of love with it. It's important to love your home, but when buying a house, it's best to view it as an investment (good home at a great value).



DO hire an inspector.


$200 today, potentially thousands saved tomorrow. Even though the market is moving so fast that offers with no inspection required are becoming more regular, hiring an inspector is still the smartest thing to do to avoid any potential future conflict or big expenses.



DON'T skip out on having a survey of the property done.


It can really come in handy to know exactly what you're buying in case any potential property disputes or property tax issues arise.



DO get pre-approved for a home loan.


In this housing market, saving time and money are the most beneficial things you can do for yourself when shopping for a home. Getting pre-approved for a home loan will tell you exactly what you can afford and might give you a leg up on other potential buyers that aren't pre-approved.



DON'T let your credit score take a nosedive.


Avoid making any large purchases for at least 3 to 4 months before buying a home. Opening new credit cards or taking on too much debt might make getting a home loan more difficult.



DON'T forget your ImOn service.
Make sure to schedule an appointment to have your new place equipped with ImOn high speed or fiber Internet so you can stay connected throughout your move.

Do's & Don'ts for

Selling

a Home
DO clean, organize, and bring natural light into your home.


As simple as it seems, first impressions of the home you're selling go a long way. Getting everything in order, cleaning up, and pulling back some shades are the easiest way to give a good first impression to potential buyers.



DON'T let your landscaping go unchecked.


Pulling weeds, raking the leaves, trimming trees and bushes, and keeping the yard mowed are the easiest ways to increase your homes curb appeal.



DO make small repairs.


Replacing cabinet handles, fixing leaky sink faucets, replacing torn window screens, touching up the walls with a new coat of paint, etc. These kinds of repairs often take more time than effort, but prospective buyers can easily be scared off by small issues that they think are more expensive to repair than they actually are.



DON'T make large scale updates.


Normally this wouldn't be the case, but with today's market, homes are being bought at such fast rates that buyers are often willing to purchase and make larger scale updates themselves. It's ok to hold off on installing a new shower surround, finishing the basement, or replacing the carpet before you list your home for sale.



DON'T forget the fiber!


Make sure to mention to your realtor if your home has a fiber-to-the-home Internet connection installed. In many cases, this can help to increase the value of the home you're selling!