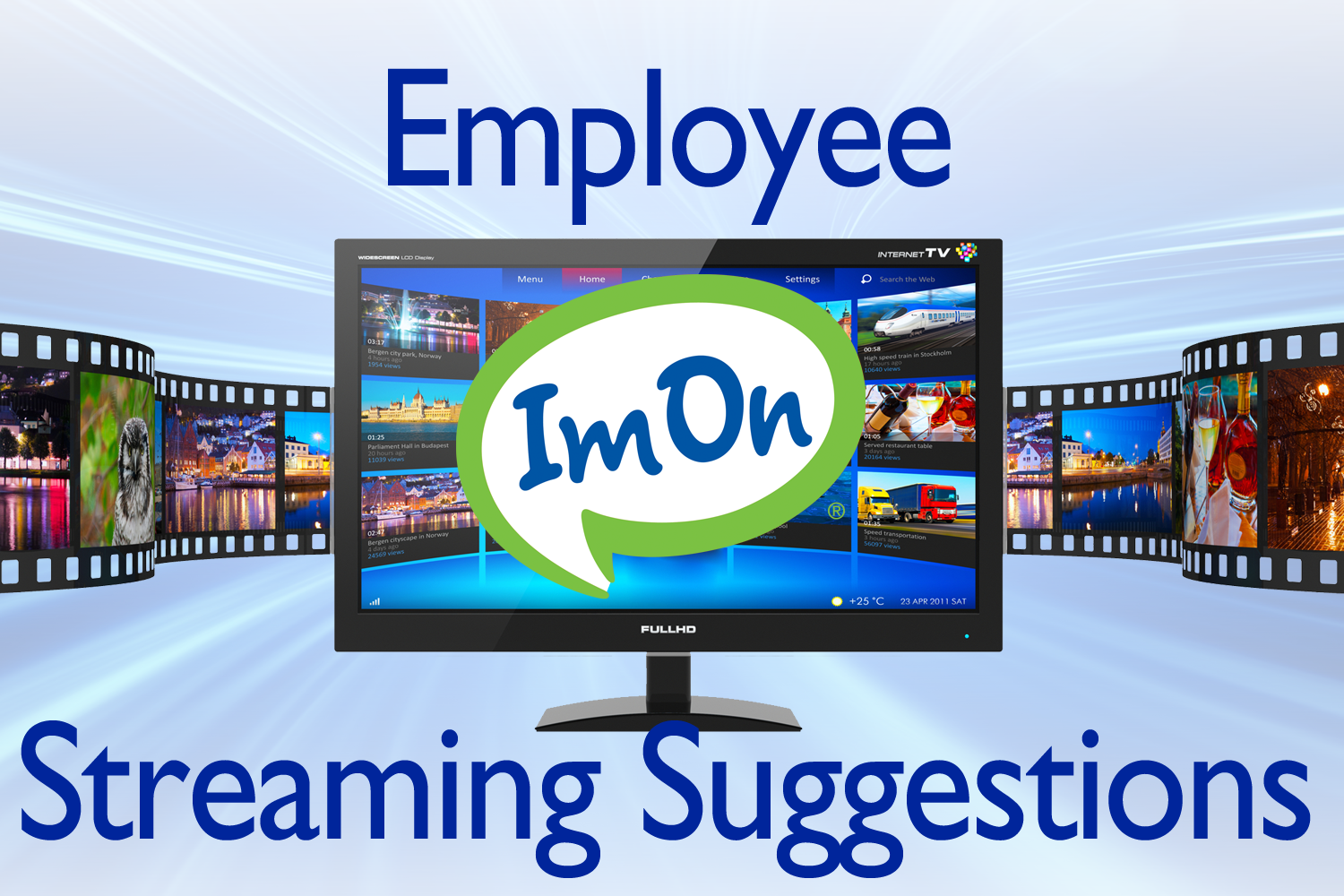 A study done by Vindicia shows 70% of U.S. Households have at least one subscription to a streaming service. In fact, it's not uncommon for families to have subscription to multiple different services! Streaming movies, TV shows and music has just become a part of our daily lives.
We know streaming is important to you because it's important to us! So, we asked our ImOn employees for some of their favorite series to watch on streaming services. We've taken the liberty of compiling a list including a brief description of the shows and what platform you can watch them on.

Hopefully this will help you find a new favorite to stream!
---
---
Absentia (Amazon Prime) – After being declared dead in Absentia, an FBI agent must reclaim her family, identity, and innocence when she finds herself the prime suspect in a string of murders.
Jack Ryan (Amazon Prime) – When CIA analyst Jack Ryan stumbles upon a suspicious series of bank transfers, his search for answers pulls him into a deadly game of cat and mouse, with a rising terrorist group preparing for a massive attack against the US.
Psych (Amazon Prime) – James Roday plays the somewhat eccentric Shawn Spencer, a police consultant who solves crimes with powers of observation so acute that the police think he's psychic – or so he lets them think.
Sneaky Pete (Amazon Prime) - After being released from prison, con man Marius Josipovic, is on the run from a vicious gangster he owes money to. He takes cover from his past by assuming the identity of his prison cellmate, Pete. He reunites with Pete's estranged family, a colorful, dysfunctional group that threatens to drag him into a world just as dangerous as the one he's trying to escape.
The Man in the High Castle (Amazon Prime) – Based on Phillip K. Dick's novel of the same name, The Man in the High Castle explores what it would be like if the Allied Powers had lost WWII, and Japan and Germany now ruled the United States.
Big Little Lies (HBO Go) – Based on the same-titled bestseller by Liane Moriarty, 'Big Little Lies' weaves a darkly comedic tale of murder and mischief in the tranquil beachfront town of Monterey, California. Amidst doting moms, successful husbands, beautiful children, and stunning homes exists a community fueled by rumors and divided into haves and have-nots, exposing fractured relationships between husbands and wives, parents and children, and friends and neighborhood.
Game of Thrones (HBO Go) –Based on the bestselling book series by George R.R. Martin, the series follows nine noble families fighting for control over the Iron Throne. However, an ancient enemy returns after being dormant for thousands of years, bringing another threat to the kingdom.
West World (HBO Go) –The story takes place in Westworld, a fictional, technologically advanced Wild-West-themed amusement park populated by android "hosts". The park caters to high-paying guests who may indulge their wildest fantasies within the park without fear of retaliation. Set at the intersection of the near future and the reimagined past, explore a world in which every human appetite can be indulged, without consequence.
Handmaid's Tale (Hulu) – The series is set in a future dystopian world where a theocracy has taken the place of the US government and women have lost all of their rights. In this future birth rates have decreasing due to infertility brought about by environmental pollution and radiation. The few women who still have a healthy reproductive system are forced to be 'handmaids' and assigned to produce children for the ruling class. But soon a resistance movement begins to challenge the regime and their ways.
Dead to Me (Netflix) – Jen, a jaded widow with anger issues, attends her first group grief counseling session after her husband is killed in a hit and run. She's curt and insensitive and the perfect foil to Judy, a woman who lost her fiancé a couple months back. Soon the two forge a friendship to help each other overcome their loss. But, soon shocking secrets are revealed and it appears Judy isn't quite who she claims to be.
Grace and Frankie (Netflix) – Finding out their husbands are not just work partners, but have also been romantically involved for the last 29 years, two women with an already strained relationship try to cope with the circumstances together.
Mindhunter (Netflix) – Set in the late 1970's, the series focuses on two FBI agents who are developing criminal psychology and criminal profiling at the FBI. They interview imprisoned serial killers in order to understand how they think, with the hope of applying this knowledge to solve current cases.
Ozark (Netflix) – A financial adviser suddenly moves his family from Chicago to the Missouri Ozarks, after a money laundering scheme goes wrong. But now, he must set up an even bigger laundering operation in the Ozarks in order to make amends with the Mexican drug cartel. But soon things start to spiral out of control.
Schitt's Creek (Netflix) – The wealthy Rose family lose their fortune after being defrauded by their business manage. The family is forced to rebuild their lives and relocate to the small town of Schitt's Creek. They have a hard time adjusting to their new lives and often come into conflict with the unsophisticated and down-to-earth residents.
Stranger Things (Netflix) – After the mysterious and sudden vanishing of a young boy, the people in the small town of Hawkins begin to uncover a series of extraordinary mysteries involving secret government experiments, unnerving supernatural forces, and a very strange little girl.