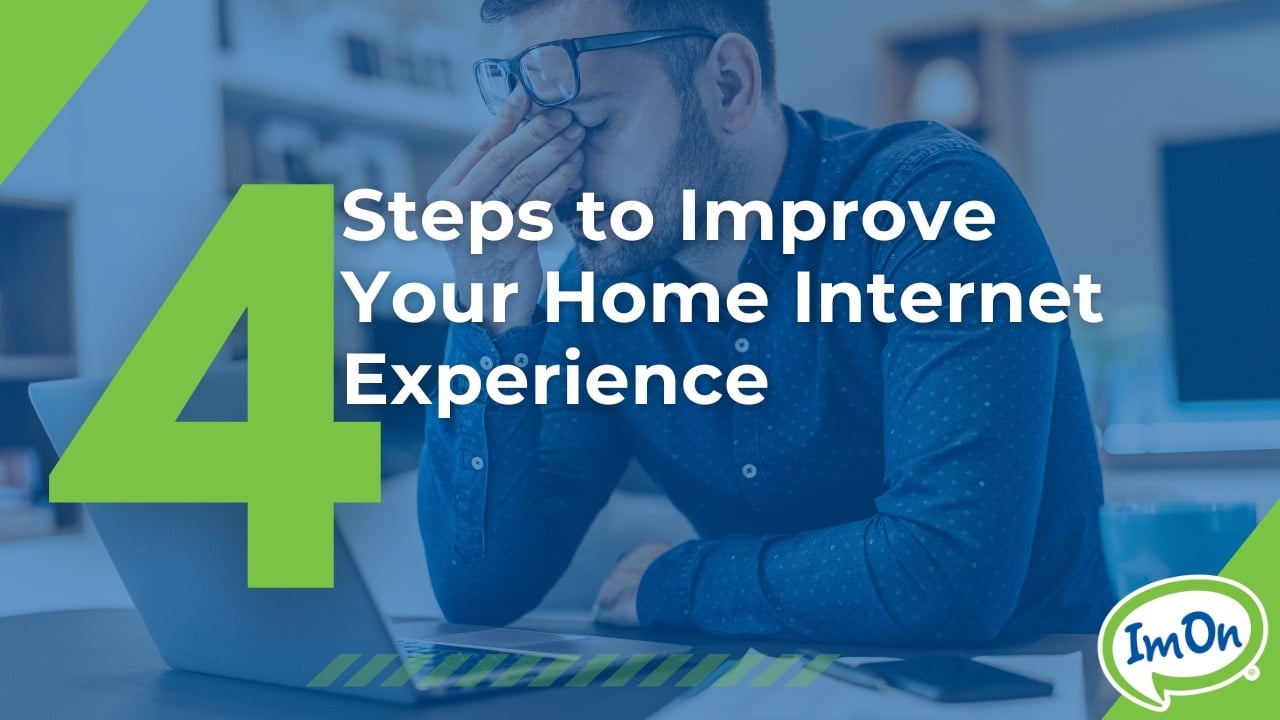 One thing we've all learned since the beginning of the COVID-19 pandemic: a strong, reliable Internet connection to your home is more important than ever. From working and schooling at home, to at-home telehealth appointments, and entertainment, almost all of us are more reliant than ever on a consistent Internet experience.
But, do you know what all goes into making sure you have that consistent connection? First, obviously, is a direct connection to the Internet that is reliable and consistent. Secondly, it's making sure your connection has the bandwidth you need for the way you use the Internet. Equally important but perhaps less understood, is the need for a strong Wi-Fi signal throughout your home. And finally, you'll only truly have the best experience if all this is backed by responsive, caring customer support.
Step 1: Get the right connection
Your Internet experience starts with a reliable broadband connection which is fed to a modem in your home. Fiber-to-the-home (FTTH) Internet service is the fastest, most reliable broadband connection available. Depending on where you live, you may have access to a FTTH Internet provider. ImOn Communications offers FTTH Internet service in areas of Cedar Rapids, Marion, Hiawatha, Iowa City, Coralville and Dubuque. If ImOn is not available in your neighborhood, you'll want to make sure you purchase Internet service from a company that provides the bandwidth you need.
Step 2: Determine your bandwidth need
We've all seen the advertisements for "fast" Internet speeds. But what you may not realize is that "speed" really refers to the capacity, or bandwidth, of your connection. The "speed" you're seeing advertised is measuring the amount of data that can be transferred over your connection, measured in megabits delivered per second (or, in some cases, gigabits!).

There are so many things that go into determining how much bandwidth you need: the number of people in your house using the Internet at the same time, the number of devices you have connected to the Internet simultaneously, and the types of activities you are doing online–surfing, streaming, gaming, Zooming–all have different bandwidth needs.

ImOn offers a quick, online Speed Analyzer at www.ImOn.net/Analyzer to estimate the bandwidth you need for your usage.
Step 3: Ensure a strong Wi-fi signal throughout your home
No matter how strong and reliable your broadband connection is, that alone is not enough to ensure a consistent Internet experience. That's where the Wi-Fi signal comes in. The Wi-Fi signal is distributed throughout your house by a router which is connected to the modem that receives your Internet connection. In some cases, the modem and router can reside in the same piece of equipment.

Consider a modern family of four on any given weeknight. Mom works from home and is finishing up some online client research in her office in the finished attic. Dad is relaxing by streaming an episode of his favorite TV series in the main-floor family room. One of the kids is upstairs in a bedroom working online to finish homework, while the other is in the basement post-homework enjoying the latest video game. Meanwhile, the family is protected by connected security cameras and the temp is via a connected thermostat they control with mobile apps. The main broadband connection is to a modem which sits on a table on the main floor.

How is this family able to do all this simultaneously in every corner of their home with that single connection into the modem on the main floor? They are each connecting through a Wi-Fi network delivered through a router. The strength of that Wi-Fi signal plays a key role in delivering a consistent experience so these family members can finish their work or enjoy their entertainment uninterrupted.

Most Internet providers offer a Wi-Fi solution along with their Internet service. However, the quality, strength and reliability of those solutions can vary widely. ImOn Communications delivers a WholeHome Wi-Fi solution that delivers a strong signal to every corner of most homes, with optional mesh units available to help carry the signal in larger homes. This Wi-Fi solution comes at no additional charge with ImOn's FTTH Internet service. The equipment ImOn provides is considered "carrier-grade," which means it is extremely reliable, well-tested, and is proven in its capabilities.

ImOn's WholeHome Wi-Fi solution even comes with a mobile app that lets you run accurate speed tests, add guest networks, set parental controls, and much more. Having control of your Wi-Fi network at your fingertips is one more way to enjoy a better Internet experience.
Step 4: Get the support you need!
Another thing we've all learned since our home Internet usage has increased exponentially, sometimes things go wrong. Even the most reliable connection can be impacted by uncontrollable factors like weather, and even the best equipment can sustain damage and stop working. The difference is how your Internet service provider responds to these events. Make sure you select a provider with a reputation for quick, responsive, thorough customer support.
The right connection + the right bandwidth + strong Wi-fi + great support = the Internet experience you need!