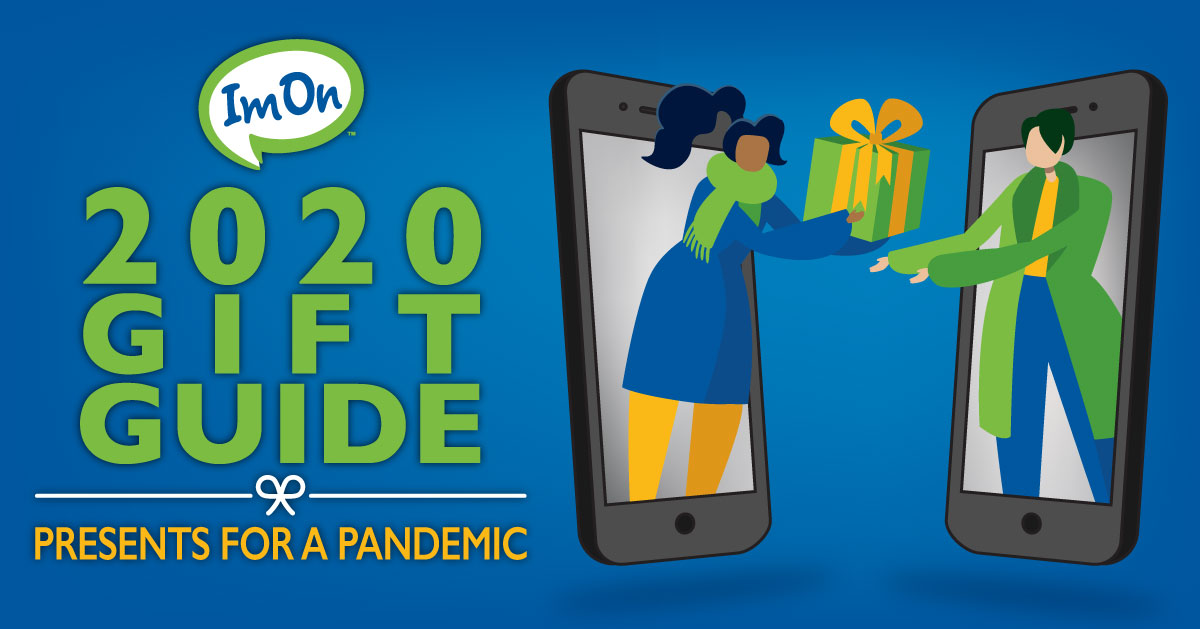 2020 has changed the way we go about our lives— including the gifts we give and the gadgets we find most useful. Take a look at this list of our favorite gifts that are perfect for the current state of the world.

Ring Video Doorbell: The pandemic hasn't stopped people from showing up at your door? Well, Ring doorbells allow you to see who is at your door and talk to them without even opening it. The app also works when you aren't home. Ring is owned by Amazon, so keep checking for deals throughout the month.

Witty Masks: These humorous masks can add a little fun to your 2020 gift giving or just add some personality to your old collection of masks. Some of our favorites include, The Ron Swanson, The Darth Vader, The Green Power Ranger, and American Gothic.

Phone Stand with Light for Video Calls: Video calls for work or just to connect with friends and family have become a regular part of life in 2020. In 2020 looking your best is much less about your stylish new shoes and much more about your camera positioning and lighting. Even if you use a computer for your video calls, the light itself is worth the price. And if your family members can be a little long-winded, it's always nice to have the hands-free phone stand when you need it.

No-Touch Door Opener Multi-Tool: You've likely seen these advertised. These are a simple and useful gift, but what we love about this one is that it's more than just a door opener— it also works as a bottle opener and styles for using public touchscreens or another's mobile device.

Wireless Work-From-Home Headphones: If you've been working from home, you know how important a good pair of headphones with a quality microphone can be. Apple's AirPods are great but can be pricey and don't work as seamlessly with non-Apple devices. This is why we love the Jabra Elite 75t wireless earbuds. With many of the same features as the AirPods and a much lower price, they also have a "talk through" feature that uses the mic to let in a little outside noise— this comes in handy if you're on a call, but also keeping an ear out for the kids or pets. You can also save a few extra bucks with the 65t, a slightly older version.

On-The-Go UV Sanitizing Bag: By this point, you've likely seen the UV sanitizing phone cleaner. This bag takes that idea to the next level. This bag can sanitize anything that you can fit inside— phone, glasses, headphones, watch, baby toys, etc. This gift feels particularly useful for people with kids.

Facemask with UV to Eliminate Pathogens: One of the top selling and least technological items of 2020 got an upgrade. If you're like us, you probably have at least a dozen masks/face coverings at this point in 2020— but you likely don't have a mask that provides equivalent protection to an N95 mask, while also purifying the incoming and outgoing air. Not only does this mask protect you, but it also protects those around you by using the UV to clean the air you exhale.

Mini Go-Anywhere Video Projector: By now, your regular movie night has probably lost some of its sparkle. This (very affordable) mini projector can revitalize your viewing and gaming experience. While inexpensive projectors aren't always what they are cracked up to be, this one has great reviews, connects with almost any device and even lets you directly connect your phone!

Sanitizer Dispensing Wristband: Sometimes the simplest ideas are the most brilliant. This handy little thing looks like a watch at first glance, but in place of the watch face is a reservoir to hold your sanitizer and it will dispense it with a push of your finger.

If you and/or your family likes gadgets, make sure you get the most out of those tech gifts with ImOn's fast and reliable fiber internet. Or if you're looking for some new shows and movies, take a look at ImOn's cable packages.