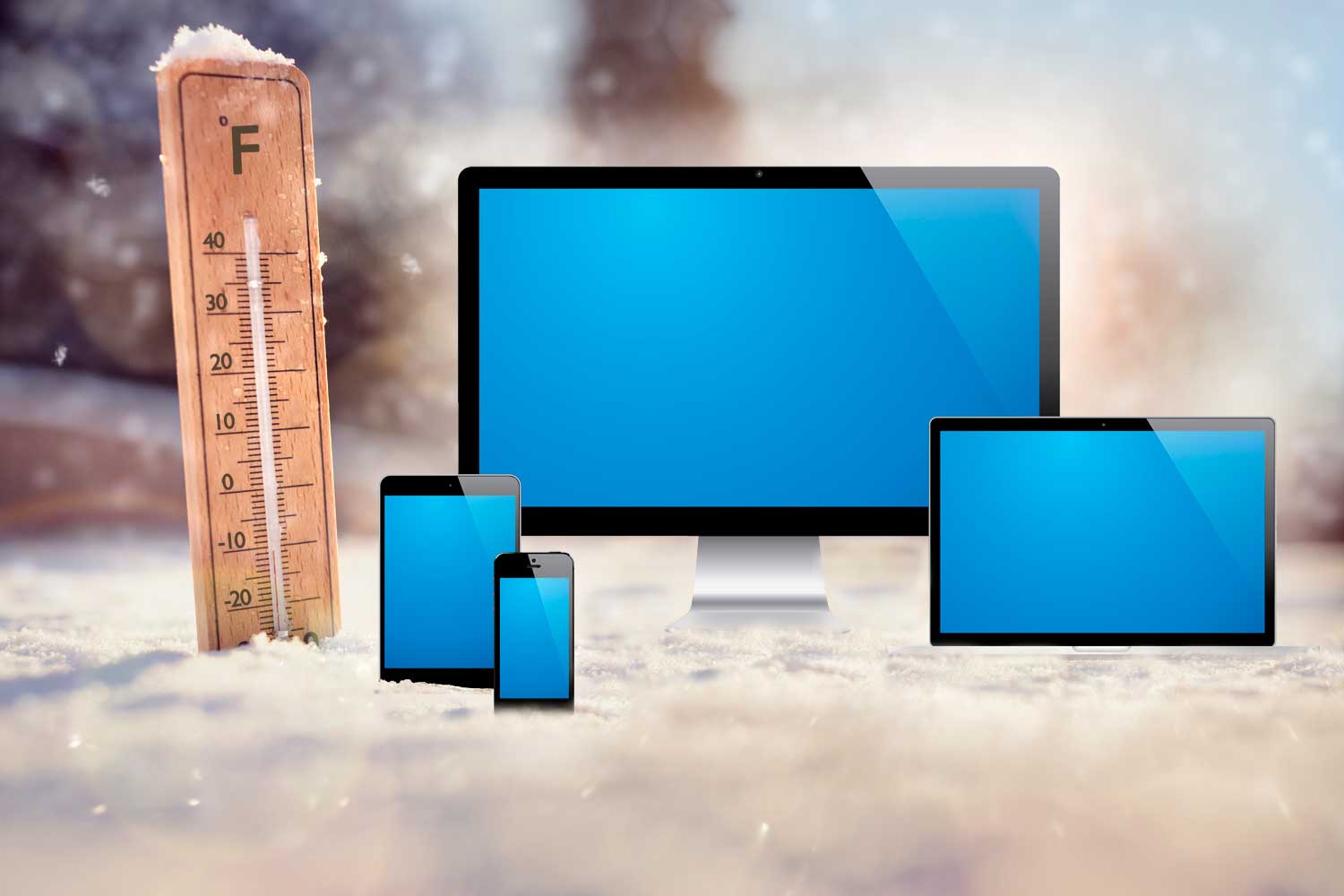 It's no surprise that overheating can affect and damage your smartphones, tablet, and laptops. But, did you know that the dropping temperatures outside can take a toll on them as well?
All smartphones, tablets, and laptops have been designed to work within safe temperatures ranges. Below is a chart showing just some of these safe ranges.
| | |
| --- | --- |
| Device | Safe Temperature Range |
| iPhones, iPads, iPods | 32°F to 95°F |
| Samsung smartphones | -4°F to 122°F |
| Most Laptops | 50°F to 95°F |
| Most TVs | 50°F to 104°F |
These temperatures refer to both the optimal usage temperate or outside environment and the temperature of the device itself. When your devices are submitted or used in temperatures outside of this safe ranges, you may experience a few problems.
Here are just a few of the problems you may experience on chilly days.
Battery Drain: This is probably one of the most common side effects of the cold weather. When cold, device batteries can drain faster than normal. According to BatteryUniversity.com it's because the cold slows the electrical current in your devices' battery causing the capacity to diminish. The good thing is that these problems are only temporary and the battery should behave normally when the device is warmed up.
Screen Issues: In cold temperatures, LCD displays on smartphones and tablets can become slow to respond. You may experience delayed touchscreen reactions and smudging or ghosting of images. Also, the cold weather makes the screen panel more ridged, which will make it more likely to shatter if dropped. If your screen already is cracked, the cold weather can make it work. Just like a cracked car windshield, the cold will cause the cracks to expand and break more.
Internal Component Damage: Many devices contain delicate electronic parts that cannot withstand extremely cold temperatures. Some components can become more brittle and crack in the cold, or condensation could form causing them to short circuit. Some devices also have difficulty reading SIM cards, using disk drives, or executing any number of processing operations. Hard drives and disk drives are also susceptible to the cold. According to Userbytes.com, many drives use lubricant to keep them spinning at a designated speed. In cold temperatures, the lubricant can thicken or harden, making them unable to spin at the appropriate speed. This can cause boot-up failures and further damage a device.
Liquid condensation: Just like when your glasses fog over when you come inside from the cold, the same thing can happen to your devices. The condensation can occur inside your device or underneath your display screen. This could cause sensitive electrical components to short circuit or cause corrosion on different parts.
As you can see cold temperatures can take a toll on your devices during the winter months. CLICK HERE to learn ways you can protect your electronics from the cold.
If you would like more information about ImOn Communications and the services we provide, visit www.ImOn.net.
Disclaimer: The information contained in this blog (or any of its hyperlinks) is published in good faith and is for general informational purposes only. ImOnInsider.com does not make any warranties about the completeness or accuracy of this information. Any action you take upon the information found on this website is strictly at your own risk. ImOn Communications is not liable for any losses and/or damages in connection with use of our website (ImOnInsider.com).