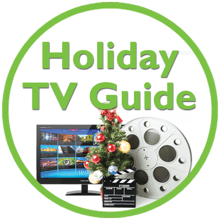 The holidays aren't the same without those time-honored traditions: Hanging up the Christmas stockings, shaking presents to guess what's inside, and binge-watching the Christmas Story marathon until you can recite each and every line from memory.
But the old traditions are made better with the addition of a few new ones. And if you're getting tired of watching the same-old thing, there are plenty of new specials, made for TV movies and live events to keep the whole family entertained this season.
---
Holiday Classics: Traditions to pass on to the next generation.
12/25 All Day — TBS
It wouldn't be Christmas without the 24-Hour Christmas Story Marathon playing in the background. Go a full day without having to change the channel, and get the whole family singing "You'll shoot your eye out" in unison.
12/15 8:20PM; 12/16 6:05PM — Freeform
A modern classic and feel-good tale just as funny for adults as it is for kiddos. Features Will Ferrell as Buddy the Elf, who inspired his own real-life holiday.
National Lampoons Christmas Vacation
12/19 7:50PM; 12/23 6:10PM — Freeform
Even though this movie dates back to 1989, it is still a great holiday classic to watch with the family. The movie follows the Griswold family as they plan for a big family Christmas which predictably turns into a big disaster.
---
Best for Kids: Fun movies to keep the kids busy while you wrap a few presents.
12/14 7:00PM — ABC
This new holiday feature is based on Disney's animated hit Frozen and is comprised of four new original songs and the same characters and cast from the 2013 film. In the special, Olaf teams up with Sven on a holiday mission to find the best family traditions in the kingdom for Anna and Elsa.
12/17 1:45PM —Freeform
Tom Hanks narrates this adaptation of the popular children's book where a young boy journeys to the North Pole on board a magical train to meet Santa.
---
Best for Adults: Holiday entertainment when the rest of the house is sleeping.
Saturday Night Live Christmas Special
12/21 9PM —NBC
Catch the classic SNL holiday skits from your favorite cast members.
12/16 1:20PM – ActionMax,
An action film set on Christmas Day is the perfect way to shake up your holiday watch list. Catch a late-night showing or record to your DVR.
12/21 3:35PM – Freeform,
A comedy film featuring Reese Witherspoon and Vince Vaughn follows a couple as they struggle to visit all four of their divorced parents on Christmas.
---
Best Made for TV Movies: the season's guiltiest pleasures.
12/14 11:00PM —Lifetime
Melissa Joan Hart and Mario Lopez join forces for this Lifetime Original Movie about two rival toy store owners who must come together after a mega toy store opens in their town.
12/16 9:00PM — Hallmark
This Hallmark original movie is the story of Eric Randall, an author of bachelor lifestyle books, who is left in charge of his young niece and nephew for the holiday. Eric turns to his neighbor April, a lover of all thing Christmas, for help.
---
For the Whole Family: No fighting or fussing for control of the remote. Everyone in the family will enjoy these funny shows.
The Great Christmas Light Fight
12/18 7:00PM — ABC
The holidays are about to get a whole lot brighter with ABC's immensely popular decorating competition series. Tune in to see the countries wildest and most spectacular holiday displays.
Seuss' How the Grinch Stole Christmas
12/24 6:35PM — Freeform
No one plays the Grinch quite like Jim Carrey, who begrudgingly learns to love the Whos in this Seussical adaptation.
---
TV Specials: Live, star-studded holiday spectaculars.
12/17 6:00pm - FOX
A live musical adaptation of the iconic film and Broadway Production about an American family during the Christmas season in the 1950s. Featuring Maya Rudolph, Matthew Broderick, Ana Gastayer, and Jane Krawkowski.
Disney Parks Magical Christmas Celebration
12/25 9AM – ABC
Keep your pajamas on and join hosts Julianne and Derek Hough for a spectacular Christmas Day parade through Disney Main Street filled with musical performances and surprise celebrity appearances. The perfect way to wake up and spend Christmas with the family.