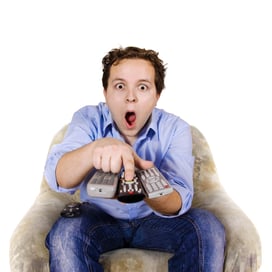 5 Things You Miss When You Cut the Cord
Thinking about cutting the cord? Streaming services have come a long way in the past few years, but they still lag behind traditional cable when it comes to the things you want most in your TV watching experience. Apps like HBO GO (free when you subscribe to HBO through ImOn) make great supplements to your cable TV package, but can they replace your subscription altogether?
For die-hard TV fans and movie buffs, there's no matching the sheer volume of current TV shows, new and classic movies, sports, and spontaneous live moments available on good old-fashioned cable TV. But we can think of five other great reasons why cable is still king:
A streamlined experience.
One of the best parts about cable TV is having access to hundreds of channels and programs from one convenient hub. There's no going back and forth between apps and devices to find the show you want to watch (if it's even available), or trying to remember your login as you sign in and out of different apps.
No worrying about spoilers.
Why wait weeks, months, or even longer for your favorite shows to become available to stream? Watch your favorite shows live with the rest of the world and avoid the dreaded "spoiler alert."
There's a lot we take for granted when it comes to local news stations: getting up-to-the-minute weather coverage, severe weather alerts, breaking local news, school and business closures—even jingles from your favorite mom & pop shops. Local news channels like KCRG, KWWL, and KGAN come standard with every ImOn cable TV package, meaning you never miss out on updates that affect your community.
All of the year's most important games are on live TV and Pay Per View—replays and recaps just aren't the same!
There are times when you just don't know what to watch—so you roll the dice and flip through the channels to see if something catches your eye. Looking at a list of available titles can be helpful, but sometimes you don't know what you want to watch until you land on the channel and give it a chance.
Technology gets better by the day—and so does the cable experience. With a DVR, you can pause and record live programming, skip over commercials, and keep track of when your favorite shows will air. And with ImOn Watch TV Everywhere, you can tune into your favorite channels—even when you're far from your cable box.
What's not to love?
Save on Internet, cable TV, and phone service when you bundle through ImOn! Check out these limited time offers that come with ImOn's 2-year price guarantee, and see why ImOn has been named "Best Local Internet Service Provider" six times by the Corridor Business Journal.