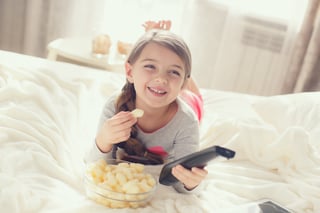 While June signals the end of another school year, it also brings the season finales of many of our favorite TV shows. But just because our favorite shows will be on hiatus for a few months, doesn't mean you have to give up TV for good this summer. Here are a few websites and apps to help you find something new to watch.

JustWatch.com
JustWatch is a search engine designed to help you find which streaming provider you can legally watch your favorite movies & TV Shows. You can also search by title, genre, and release date to find something new you may like.
IMDB
IMDB, short for Internet Movie Data Base, is basically Wikipedia for everything film and television related. You may already be using IMDB to find out who plays the lead in your favorite show, or who directed a new movie you want to see, but the database can be very helpful when you're looking for something new to watch. It offers a searchable database of more than 185 million movies, TV shows, entertainment programs, and reviews. There are many different avenues you can use to find recommendations on this site. Enter the name of your favorite actor and instantly see all the movies and TV shows they've made. Try one you haven't seen and take advantage of IMDB's user-based ratings system to help steer you towards the best options.
Jinni.com
Jinni puts some serious science into finding movie and TV shows you might like. It can import ratings and likes from Facebook, the IMDB, Rotten Tomatoes, and Flixter. It also manually tweaks your tastes and likes. The search engine looks more at the features of content you already like rather than just the simple tags, actor, and genre.
televisor.com
Find shows based on what you are already watching. This free "recommendation engine" is surprisingly easy to use. Simply type in the name of a TV show or movie you like, and televisor.com will generate a list of similar programs you might like. Plus, each results page does offer details about each recommended show to help you make a more informed choice. Want more personalized results? Give the suggested show a thumbs up or down and Televisor.com will tailor search results to your liking. For the same format for movie recommendations, try Movievisor.
Yidio.com
Yidio, which is short for "Your Internet video", is an online video guide that allows you to easily search and discover over 1million TV shows and movies across hundreds of premium free and paid content services like Netflix, Hulu, and Amazon. You can get personalized recommendations and notifications based on TV shows and movies you like to watch. And, once you find what you're looking for, just tap play to start watching on your iPad, iPhone or TV (via Airplay or Chromecast).
GoWatchit.com
GoWatchIt is a comprehensive guide to finding movies and TV shows on various platforms (In theatres, on TV, on streaming sites, or on Blue-Ray/DVD). You can search, bookmark favorites, and even receive alert notifications when your favorites become available.
Fan.TV Website & App
Fan.TV lets you browse over one million movies and TV Shows and find where to watch them, either on live TV or over 50 premium streaming services. When you search for a specific show, it gives you show details, cast bios, and a list of similar shows you may like. You can also add movies and TV shows to your watchlist and Fan.TV will keep track of when and where you can watch them.
Metacritic.com – See how the latest shows stack up against each other with the help from this review aggregator. Metacritic is arguably the Internet's most reliable source for tracking professional reviews on TV, movies, music, games and more. If you're curious what critics think about a new show, Metacritic combines the individual reviews and averages them out to produce a Metacritic score from 0-100. Metacritic is also a great way to search for new content. It can help you find that next binge-worthy series, or keep you from wasting your time on a flop. You can browse by the top-rated shows, or see a list of the newest shows ranked in order of their Metacritic score.