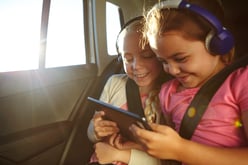 Ever miss your favorite show because you couldn't make it home in time? Nothing's worse than seeing spoilers on Facebook before you get the chance to catch up. Thankfully, ImOn Communications has the perfect solution: TV Everywhere. But what exactly is TV Everywhere? Here's how it works:
What is TV Everywhere?
TV Everywhere lets you watch your favorite TV programming whenever you can't connect to your cable box. Watch live and on-demand footage from anywhere inside your house, or anywhere outside with a stable Internet connection. Get hooked on a new series on your next road trip. Catch the big game while you're waiting at the doctor's office. Or even watch a movie outside on the porch.
How is TV Everywhere different from streaming apps?
Unlike streaming apps such as Netflix, TV Everywhere lets you tune into live TV broadcasts—including live sports events—so you never miss out on the action. It also lets you enjoy on-demand programming from shows within days of their on-screen premiere, meaning you don't have to wait for the full season to air in order to catch up on your favorite series.
How do I access TV Everywhere programming?
TV Everywhere gives you free access to programming from dozens of networks that you subscribe to through your ImOn cable TV package. Simply create a TV Everywhere account and then login to the TV Everywhere site. From here you can select the network and show you want to watch. You can watch live feeds or select pre-recorded programming that you can start, pause and finish at the best time for you.
In order to use TV Everywhere, you will need three things:
An ImOn TV Everywhere Account
A solid Internet connection
An Internet-connected device like a laptop, smart phone or tablet.
What movies/shows can I watch on TV Everywhere?
With TV Everywhere, you get access to programming offered through channels covered in your ImOn Cable TV subscription. The programming and types of programming will vary based on the network, as each channel determines the content for the TV Everywhere platform. Not every channel participates in ImOn TV Everywhere. However, ImOn is constantly adding new networks to the lineup, and currently offer more than 70 channels through TV Everywhere, including NBC, Disney and ESPN. View the current list of channels here.
How much does it cost?
TV Everywhere is 100% free with your ImOn cable TV subscription! Keep in mind that watching TV Everywhere outside the home on a mobile device may count against your mobile data plan. We recommend checking the terms of your plan before you start using TV Everywhere on a mobile device, as streaming may cause you to exceed your data plan.
Need help getting started? Visit our how-to page for a step-by-step guide.