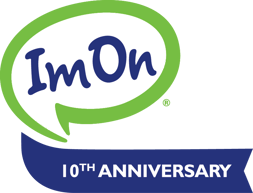 On March 9, 2017, ImOn Communications celebrates its 10th year serving the Cedar Rapids community. Not only have we provided quality high-speed Internet, cable TV, and phone service to our residential and business customers the past 10 years, we have also grown as a company, invested in infrastructure and technology, and supported the communities we serve.
To mark our 10th anniversary, we wanted to share a few fun facts you may not know about ImOn.
When we started the company 10 years ago, the top 3 company name choices were, ImOn Communications, Mable Cable, and Quix Net. ImOn Communications won the vote and as they say, the rest is history.
ImOn started with 37 employees and we have now grown to over 100 employees.
3,854 customers have been with us the entire 10 years. Thanks for your loyalty!
ImOn employees deliver meals once a month for Horizon's Meals on Wheels program. Each year, more than 1,000 meals are delivered to seniors in our community.
ImOn has won the Corridor Business Journal's "Best Internet Service Provider" award 6 times.
In 2016, ImOn sponsored or participated in 133 local community events.
ImOn Customer Care is comprised of 14 people located right here in Cedar Rapids. They help, on average, 8,278 customers per month. And did you know the busiest day in ImOn Customer Car is Monday?
ImOn's network is comprised of over 640 miles of fiber optics, coax, and copper. Did you know ImOn was the first company to offer Fiber-to-the-home service in Cedar Rapids! That includes 1GIG (1,000Mb) Internet speed!
In the flood of 2008, lmOn lost 14% of our customers and 2 hub sites due to the flooding. But in the flood of 2016, ImOn didn't lose anything!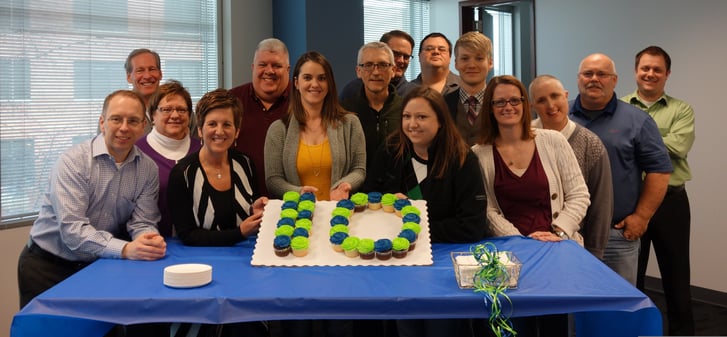 To celebrate our 10th anniversary, ImOn will have several fun customer events and giveaways throughout the year. Here is just a preview:
- ImOn March Gladness Nonprofit Bracket Challenge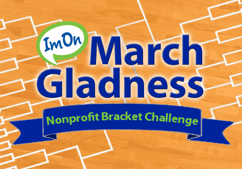 At ImOn Communications, we believe in supporting and investing in the communities we serve. We pride ourselves in actively giving back and supporting our local schools, cultural organizations, service groups, and nonprofits. So it would only make sense that we do something BIG for our community in honor of our 10th Anniversary on March 9, 2017.
Since our 10th Anniversary falls in line with the NCAA March Madness Basketball Tournament, we have decided to hold a "March Gladness Nonprofit Bracket Challenge" on ImOn's Facebook page. For this challenge, 8 local nonprofits will compete for community votes for a chance to win a $500 donation from ImOn Communications. The nonprofits participating are: Eastern Iowa Honor Flight, Four Oaks, Junior Achievement of Eastern Iowa, Last Hope Animal Rescue, Matthew 25, Young Parents Network, Bridgehaven, and Willis Dady.
We invite you to like our ImOn Facebook page, and visit each day, March 14th -24th, to vote for your favorite nonprofit and help them win $500. For more information visit www.MyImOn.com/MarchGladness
-10 Months of ImOn Giveaways
We recognize that our customers continued loyalty plays a vital role in the success of ImOn, and to show our appreciation and to celebrate ImOn's 10th anniversary, we will be launching the event 10 months of ImOn Giveaways in March. Once a month, a prize will be given away on ImOn's Facebook page. Some prizes include: a tablet, blue tooth speakers, Roku, and Amazon Echo. Just another great reason to like and follow ImOn's Facebook Page!

- ImOn Cash Cling
Who wants to win $100 off their ImOn bill? You can with ImOn's Cash Cling! More details to come later this month – check ImOn's Facebook page or www.MyImOn.com/10Years for updates!

-Great customer Appreciation events throughout the year
Besides the fun activities listed above, we also have a number of activities planned for the remainder of the year to help celebrate this anniversary milestone. Some of these include:
Uptown Friday Night FREE admission ticket giveaway – May 26
ImOn night at Brucemore Children's Theatre - August
ImOn's annual Customer Appreciation Celebration - August
An ImOn team for the Especially For You Race Against Breast Cancer - October
ImOn Days with the Iowa Hawkeyes - Fall
ImOn 10 Days of Christmas - December
FREE year of ImOn Services giveaway - December

Make sure we have your current email address so we can send you special information about these upcoming events. To register your email with ImOn go to www.MyImOn.com/loyalty.