Give your kids the freedom they want, with the security you need.
In this day and age it is nearly impossible to cut out all use of technology and social media, especially with your kids. As our children start to get older, we find ourselves wanting to give them room to take on more responsibility and prove they can handle it. With the unpredictability of the internet, it can be incredibly difficult to give this responsibility. There are constant questions: Who's contacting them? What are they doing online? Since tweens and teens often keep their lives to themselves, it can be tricky to get clear answers.
It is important to familiarize yourself with what your children are doing online and to have an open dialogue with your children about online safety. If you are still wary about giving your children full internet freedom, there are a few tools to keep track of what they are up to online.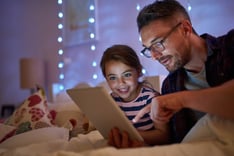 For added safety, you can install parental control software on your computer that will restrict access to unsuitable web pages and control how your kids can use the Internet. You should also install an anti-virus software and anti-spyware software before your kids start using the Internet. This will help to secure and protect your computer from online hacking. And ImOn Communications offers Tech Home Services that includes both desktop security and parental controls for your online protection and peace of mind. For more information on ImOn's Tech Home services, visit http://www.MyImOn.com/TechHome.