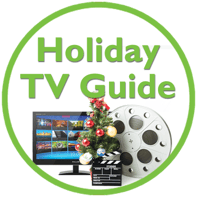 At ImOn Communications we understand that the holiday season can be stressful and hectic. So after you deck the halls and wrap the gifts, make sure to snuggle up on the couch, relax, and enjoy some of the holiday programming on television.
It used to be there were only a handful of holiday specials and movies on TV leading up to Christmas. But now, there are too many to count. With just about every television network having at least one night dedicated to the Christmas spirit, while cable TV networks like Freeform and The Hallmark Channel feature non-stop holiday programming, it's hard to keep track of it all.
So ImOn is making it easy for you to find the holiday specials you're looking for with our ImOn Holiday Survival Guide Holiday TV & Movie Calendar. So whether it is your family tradition to watch "Christmas Vacation," or you just need to entertain the kids while you prepare the holiday meal, we have you covered. We have the dates, times, and channels for all of the holiday programming you are looking for. And the good news is that we will continue to update the calendar as the holiday season continues to roll on.
And don't forget, ImOn cable TV customers can access all of these holiday classics on the go with ImOn TV Everywhere. ImOn TV Everywhere gives you access to all your favorite holiday programming anywhere on your computer, smartphone, tablet, or any other Internet ready device. And the best part is that TV Everywhere is included free with your ImOn cable TV subscription! It's easy to get started! Just go to www.MyImOn.com/TVEverywhere for registration instructions and a link to the ImOn Watch TV Everywhere page.
It is just another way ImOn is keeping you connected this holiday season.