ImOn Communications believes in supporting and investing in the communities we serve. And what better way than providing free public Wi-Fi in portions of Cedar Rapids and Hiawatha. ImOn knows Internet connectivity is such an important part of our daily lives so offering free public Wi-Fi makes Internet access readily available where we work and play. Free public Wi-Fi not only enhances the quality of life for residents and visitors to our community, but it is also a step forward in making Cedar Rapids a "connected" city. Public users can get up to 2 hours of free access daily, while current ImOn residential Internet customers receive unlimited access. Just another added benefit of being an ImOn customer!
The ImOn Free Wi-Fi network is a commercial grade, state-of-the-art network which utilizes a series of access points throughout the city that are connected to ImOn's high-speed 10 gigabit fiber optic network. That means the Wi-Fi network can offer fast speeds and can handle hundreds of simultaneous users.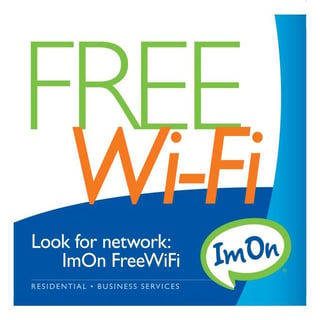 You can find ImOn's free pubic Wi-Fi at the following locations:
-Downtown Cedar Rapids
-Cedar Rapids Ice Arena
-NewBo City Market (Cedar Rapids)
-McGrath Ampitheatre (Cedar Rapids)
-Guthridge Park (Hiawatha)
-Tucker Park (Hiawatha)
-Fay M Clark Park (Hiawatha)
To use ImOn's free public Wi-Fi, just look for "ImOn Free Wi-Fi" under your available Internet networks. You will then be directed to a webpage that will allow you to access the network.