Buzzer-beaters, unthinkable upsets, and fans everywhere. We're getting closer and closer to March Madness and ImOn wants to make sure you have everything you need for the 2017 NCAA Tournament.
Schedule:
March Madness officially begins on Selection Sunday, which takes place on Sunday, March 12th. This is when the NCAA I Men's Basketball Committee reveals the 68 teams that will play in this year's tournament. The show will stream live on NCAA.com. After Selection Sunday, the action begins on March 14th and 15th with the First Four games. The First and Second Rounds get under way March 16th -19th. This part of March Madness may be the most entertaining days with all the possible buzzer-beaters and unthinkable upsets. Below is the complete schedule from the NCAA with all of the tournament dates and sites.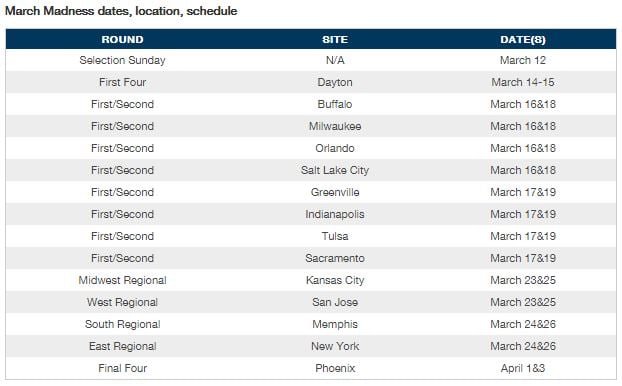 Brackets:
The first thing you need to know is that that odds of picking a perfect March Madness Bracket are over 9.2 quintillion to 1. To put that into perspective, you have a substantially better shot at winning the Powerball than you do at picking a perfect bracket. But even with those odds, one in 10 Americans play March Madness brackets, whether online, in an office pool, or just with some friends. If you would like to be a part of the action, you can print off your official 2017 bracket by CLICKING HERE or visiting www.ncaa.com.
Now that you have your brackets, remember to enter the KGYM bracket challenge, sponsored by ImOn, for a chance to win $500. Just submit your bracket on the KGYM website between March 12th-16th.

Watching the Games:
Get your DVR ready! CBS (ImOn channels 2 & HD 802), TBS (ImOn channels 61 & HD 861), TNT (ImOn channels 57 & HD 857, and tru TV (ImOn channels 72 & 872) will be broadcasting most of the First Round through the elite eight, and CBS gets the Final Four and the championship game. During the First and Second rounds many of the games will take place during the work day and there will be an overlap in game times, this is where the DVR comes in handy. But, you don't have to DVR the games, you can watch them LIVE on your phone, tablet, laptop, or computer with ImOn TV Everywhere. If you are an ImOn cable TV subscriber and have TBS, TNT, or truTV in your service package, you can watch these games through ImOn TV Everywhere. You must register your ImOn account on the Watch TV Everywhere site before the games start. For registration instructions, visit www.MyImOn.com/TVE
For more information about the NCAA Tournament visit http://www.ncaa.com/march-madness