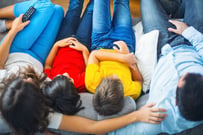 Summer is coming to a close and along with the close of the sunny season comes the end
of some of our favorite summer TV shows. While we will miss our summer series, it's time to get excited for some fresh faces coming onto our screens this fall! If you are looking for good dramas, new comedies, or even programming that you can stream on your ImOn TV Everywhere, we've put together a list of some of the great new programs that will be filling the slots on your prime-time TV guide.
Organized by network, here are some of the most hyped new shows that will be coming into your homes this fall.
ABC (ImOn Channels 9, 16.5, or HD 809)
Designated Survivor
Wednesdays at 9pm, Premiering on September 21st
"Designated Survivor centers on Tom Kirkman, a lower cabinet member who unexpectedly becomes president after a devastating attack on Washington. He will struggle to prevent the country and his own family from falling into chaos, as he is thrust into one of the most difficult presidencies in history."
[youtube https://www.youtube.com/watch?v=N_f1v0Nx5Sw]
Conviction
Mondays at 9pm, Premiering on October 3rd
"Lawyer and former First Daughter Hayes Morrison is about to accept a job offered from her sexy nemesis, NY District Attorney Wayne Wallis, to avoid jail time for cocaine possession and avoid hurting her mother's Senate campaign. Working with his team at the new Conviction Integrity Unit will let her use her brilliant mind to turn over cases where there is credible suspicion of wrongful conviction, and give her a chance to turn things around with her high-powered political family."
[youtube https://www.youtube.com/watch?v=KJqg6J4JeLg]
American Housewife
Tuesdays at 7:30pm, Premiering on October 11th
"Katie Otto, a confident, unapologetic, plump wife and mother of three, raises her flawed family in the wealthy town of Westport, Connecticut, filled with "perfect" mommies and their "perfect" offspring. She lets us in on her deepest, most unfiltered thoughts through voiceover as she lives her life as the second fattest housewife in Westport."
[youtube https://www.youtube.com/watch?v=A9JRoZsnINw]
CBS (ImOn Channels 2, 66.2, or HD 802)
Bull
Tuesdays at 8pm, Premiering on September 20th
"Michael Weatherly returns to CBS as Dr. Jason Bull. Inspired by the early career of Dr. Phil McGraw, the series follows the brilliant, brash, and charming founder of a hugely successful trial consulting firm who uses a combination of remarkable insight into human nature, three Ph.D.s, and a top-notch team of experts to create winning strategies that tip the scales of justice in his clients' favor."
[youtube https://www.youtube.com/watch?v=cRbT53K9XZQ]
The Great Indoors
Thursdays at 7:30pm, Premiering on October 27th
"Joel McHale stars in this insightful and timely comedy about a renowned adventure reporter who has spent his life exploring the edges of the earth. Now that he's taken a desk job in the digital department of the magazine, he must adapt to the times and his new world. He's struggling to grasp the lingo of online "click-bait" and "listicles", but his real challenge is in understanding his staff of millennials who write about the great outdoors but never actually set foot outside."
[youtube https://www.youtube.com/watch?v=oIGqzXhqsqc]
Pure Genius
Thursdays at 9:00pm, Premiering on October 27th
"From the executive producer of Parenthood and Friday Night Lights comes a unique medical drama centered around a young Silicon Valley tech billionaire who builds the ultimate cutting-edge hospital that treats only the most rare medical mysteries—at no cost. Lending credibility to this new venture is a maverick surgeon who's the first to discover that his boss's mission is to get bureaucracy out of medicine, use the most forward thinkers in technology, and just save lives—including his own."
[youtube https://www.youtube.com/watch?v=Fx-5-t4Njlc]



NBC (ImOn Channels 7, 17.4, or HD 807)
The Good Place
Thursdays at 7:30pm, Special Preview on Septembet 19th at 9pm, Regular Premier is September 22nd
"From Michael Schur, executive producer of "Brooklyn Nine-Nine" and "Parks and Recreation," comes a smart, unique new comedy that follows Eleanor Shellstrop, an ordinary woman who, through an extraordinary string of events, enters the afterlife where she comes to realize that she hasn't been a very good person. With the help of her wise afterlife mentor she's determined to shed her old way of living and discover the awesome (or at least the pretty good) person within."
[youtube https://www.youtube.com/watch?v=UMf24rEsMOs]
This is Us
Tuesdays at 8pm, Special Preview on September 20th at 9pm, Regular Premier is October 11th
"Sometimes life will surprise you. This refreshingly honest and provocative series follows a unique ensemble. As their paths cross and their life stories intertwine in curious ways, we find that several of them share the same birthday and so much more than anyone would expect. From the writer and directors of "Crazy, Stupid, Love" comes a smart, modern "dramedy" that will challenge your everyday presumptions about the people you think you know."
[youtube https://www.youtube.com/watch?v=rfUiKg28r_M]
Timeless
Mondays at 9:00pm, Premiering on October 3rd
"Timeless is a thrilling action-adventure series in which a mysterious criminal steals a secret state-of-the-art time machine, intent on destroying America as we know it by changing the past. Our only hope is an unexpected team: a scientist, a soldier, and a history professor who use the machine's prototype to travel back in time to critical events. While they must make every effort not to affect the past themselves, they must also stay one step ahead of this dangerous fugitive. Can this handpicked team uncover the mystery behind it all and end his destruction before it's too late?"
[youtube https://www.youtube.com/watch?v=4glJzvUunOE]
FOX (ImOn Channels 8, 17.5, or HD 808)
Pitch
Thursdays at 8pm, Premiering on September 22nd
"The dramatic and inspirational story of a young pitcher who becomes the first woman to play Major League Baseball. A beautiful, tough and gifted athlete, Ginny Baker is vaulted into instant fame when she's called up by the San Diego Padres to make her Major League debut. Like any rookie, Ginny must prove herself to her teammates. Foremost among them is Mike Lawson, the team's ruggedly handsome star catcher. There's instant chemistry between them, although neither dares admit it. After all, Mike is captain of the team and a few of his players don't even want Ginny on the field."
[youtube https://www.youtube.com/watch?v=k0wLCGwYZ3g]
See a show that you want to catch, but know you'll miss? ImOn has got you covered. With ImOn TV Everywhere you can catch up on these new shows, so you can weigh in on which shows you love and which shows you don't. The best part? ImOn TV Everywhere is FREE with your ImOn cable TV subscription. Click here to find out how to register for your ImOn TV Everywhere account. We have also included a calendar of all of the premiere dates and times on www.MyImOn.com/Events.